*This post may contain affiliate links. As an Amazon Associate we earn from qualifying purchases.
What's Your Business Social Identity
As socially aware millennials drive the workforce, corporations are becoming acutely aware that they need to combine social goals with financial goals to attract and retain loyal employees.
As businesses strive to attract and retain customers, it's important to understand that the changing millennial consumer wants to do business with companies that take a stand on a social issue.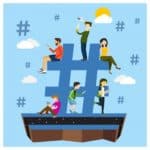 Fifty-two percent of consumers, that participated in a Nielsen Worldwide study, stated that they actively look for a corporation's social responsibility message on packaging of products they consider buying.
While Corporate Social Responsibility strategies aren't the sole purpose people chose a product, it is becoming more important aspect of the promotional mix.
Integrating a long-term business plan that includes either donations, charitable giving or developing sustainable processes into the business model increases a company's value on many levels.
That's why over 60 per-cent of large corporations are developing a Corporate Social Responsibility Strategy.
[amazon fields="0470876417″ value="thumb" image_size="large" image_align="center"]
[amazon fields="0470876417″ value="button"]
1. Adapt To The Social Impact Lifestyle
Social sharing is bringing us back to tribal patterns in online relationships.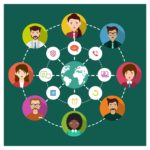 Associating with a community linked by a common culture is a loose definition of a tribe. It's similar to what we define as an online community.
Nonprofits have learned that the highest levels of donations come from two groups of prospects.
The first group are previous donors, that have donated to a cause  several times before.
The second group is from prospects that believe that they are members of a small, exclusive community. Charitable giving research has indicated that in establishing community relationships, potential donors feel a strong sense of self. They tend to donate to mirror the behaviors of others they identify with.
Millennials continually cultivate their online image. A big part of this image is demonstrating to their communities how they are the change they want to create in the world.
Social sharing conveys what the person is all about, while growing a networked community of like-minded people.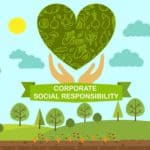 Nonprofits, crowdfunding campaigns and businesses that understand the 'sense of community' behavior are building strong customer relationships. They are able to work as partners with customers to create a better world within the constraints of their shared cause.
Becoming mutual partners with a nonprofit, a cause related effort, or an environmental organizations, along with your supply chain vendors and market participants, involves everyone in your success.
Essentially, inviting employees, prospective customers and other like-minded individuals to share in your cause, builds community. Community members are eager to share their time and dollars with a worthwhile cause and the businesses or products that share their passion.
2. Design A Socially Aware Business Model
Starbucks has mastered the process of integrating social issues into their business model.  A visit to the Starbucks Social Impact page on their site breaks it down into four categories.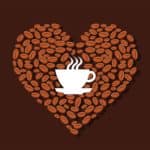 The Starbucks brand focuses on four socially relevant issues:
Source Ethically and Sustainably

Create Opportunities

Lead In Green Retailing

Strengthen Communities – by matching customer volunteers with local nonprofits.
Your social impact or sustainable practice doesn't have to be earth-shattering to start. You may already be doing some worthwhile activities that deserve attention.
For example, a company that transports goods by truck may indirectly participate in a Transportation Management System (TMS) where space is shared in less than full trucks to save on costs and emissions.
Delving into your logistics and supply chain may uncover that you are already participating in socially conscience practices. It may also open up new changes that increase efficiencies and reduce waste in a environmentally conscience manner. Taking action can be the first-step as you begin to hold your business socially accountable.
Sharing these practices in your communications begins to differentiate you from competitors in new ways. It's the start of building community around your organization's social responsibility, as you become a force for positive change.
[amazon fields="1292065818″ value="thumb" image_size="large" image_align="center"]
[amazon fields="1292065818″ value="button"]
3. Create A Disruptive Brand Experience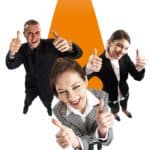 One in four millennials are more likely to pay for an experience than for a product. Inviting people into your brand community may mean doing things differently.
Creating brand experiences, that involve external and internal customers to share your social impact, is a challenge. Companies and nonprofits are disrupting their industries by doing just that.
TOMS, the brand with the tagline: "With every product you purchase, TOMS will help a person in need. One for one" is continually coming up with experiential campaigns, on many levels to engage their communities.
One of the greatest challenges in communicating an organization's charitable donation business model is how to tell the story with impact.
TOMS created an innovative solution. In their stores they installed Virtual Reality headsets, where shoppers virtually see the joy from the children they help when they make a purchase.
TOMS also launched a disruptive experience on the employee level in a wonderful way. They introduced 'Tomorrow's Project ' where employees are given the opportunity to submit a new charitable initiative every month.
The entire company then votes on the winning program. The winner receives $10,000 towards the project and two days off to implement the program. Incorporating social impact with a unique experience keeps TOMS workforce engaged and excited.
4. Make Your Disruption Personal
The Alzheimer's Research team in the UK are testing ways to seize upon the social impact lifestyle to create a meaningful experience.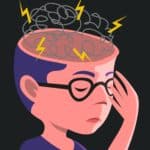 To increase awareness and donations among a young audience, they have developed  a Facebook app, aptly named FaceDementia.
The app is designed to simulate the symptoms of dementia by demonstrating to users what it's like to lose the memories of where they live, work, and who their loved ones are.
Content gradually disappears from the users Facebook profile to simulate the memory loss that occurs with dementia.
The organization finds that the app has been a good way to shake young people up, and make them aware of the sadness and confusion that some of their grandparents may have faced.
Young people that have lost grandparents to Alzheimer's are potentially a target community.
Success has been measured by the number of app downloads and the number of shares.
Disrupting behavior, to make people aware, has been a strategy for charitable giving programs for years. Social media, and our growing digitized lifestyle, provides a forum to connect with individuals to build community in a meaningful way.
Brands that integrate Corporate Social Responsibility into their business plan are doing more than building a relationship with customers and employees. Focusing on the positive attributes of your organizations social and environmental efforts, may be the very thing that sets a brand apart to build a strong brand community as we move into a very different future. 
[amazon fields="B078S98BN3″ value="thumb" image_size="large" image_align="center"]
[amazon fields="B078S98BN3″ value="button"]