*This post may contain affiliate links. As an Amazon Associate we earn from qualifying purchases.
It's hard for me to believe but I have had my own promotional marketing and products business for 24 years as of July 7, 2016!! I have seen this industry grow and change quite a lot during these past 24 years. And I have to say, that the promotional product manufacturers continue to expand their offerings and be even more relevant in helping to build brands.
Promotional Products Make Good Business Sense
Studies conducted by the Advertising Specialty Institute proves that utilizing promotional products as part of a comprehensive marketing plan makes good business sense. Promotional products have a proven ROI (Return on Investment), most people that have a promotional product have a more positive image of the brand, are more willing to do business with that company and many promotional products are used time and time again over months and sometimes years thereby expanding the reach of the brand beyond the promotional product recipient.
When I started in the business, there was no internet. You had to know someone who could find you the right promotional product. Now you can find just about anything online. But I have to say, in the promotional products industry, a brick and mortar enterprise in my opinion is a much better bet.
I had a client not too long ago show me a pen she had purchased and the logo was all wrong. I told her "we didn't do this for you." And she admitted that she had bought them online to save a few pennies. And she was now "stuck" with them and couldn't use them. Her few pennies saved turned into hundreds of dollars lost. She asked if I could fix them and of course that's not possible. So I asked her, "have you learned your lesson?" And of course she had.
Don't get SOLD something
You see, I am the "logo police" and "brand ambassador" for my clients. I want to make sure that everything they do to market themselves reflects their brand integrity no matter if it's a simple pen or an expensive power bank. When people buy online, that company typically isn't invested in their success, they are just trying to sell them "something".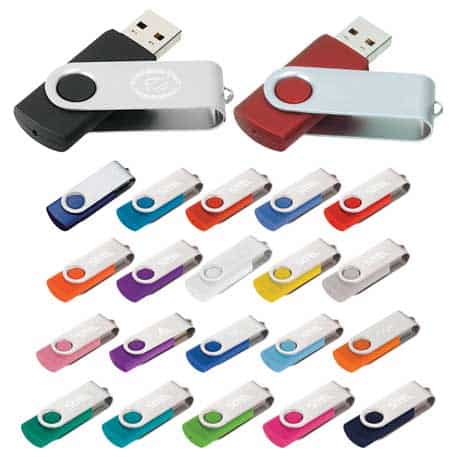 And that "something" may not be what you thought. Online it may look the same, but in reality, it may not be. Take USB's for instance. Right now you may think the market price online looks pretty good and you may get a quote from someone else and it's a bit higher. Why? They look the same, why not purchase the lesser expensive one? Well, the less expensive version is usually less for a reason. It's not the same. Many times they are using recycled chips. Yep. That's right. The breakage rate is much higher (I mean you plug it in and it doesn't have all the memory you thought or it won't let you upload). And so instead of saving money, you've lost your opportunity to have a lasting impression on your prospect or client (or it's a bad impression where they receive it and it doesn't work).
Now, of course, there are items you buy online that are exactly what you thought. However, is that company looking out for you? Questioning if the color chosen is wrong (it's easy to click incorrectly at times) or the uploaded logo wasn't the right one, or are they notifying you they can't make your in-hands date?
It's true. Again, I had a client think they were going to save and called me when they found out that what they had ordered online wasn't shipping on time (it was on backorder and the online company didn't explain that). So, luckily we were able to save their event and get them an appropriate gift on time.
I get asked all the time what the top sellers are. We've talked about it before, tech items are real hot right now and there are options in our under $10 budget, but there really are great options in many categories to choose from.
Great Promotional Product Options Under $10 (of course the quantity purchased can make a difference):
Pens. Yes, I know that seems obvious, but they are #1 for a reason – people use, keep and like quality pens. Pens are more than just a writing instrument today too, they have a stylus for your electronics, a highlighter or a flashlight to help you read the bill in a restaurant.
Bags. How many do you own? And there are tote bags well under $10 that you can totally customize with the colors of the bag itself (we recommend one to our clients regularly). And the research proves that bags are kept and used for more than 7 months. So many choices from totes to backpacks to duffels and all under $10.
Wearables. Hats and T-shirts are always appreciated and worn time and time again. Great for just about any event.

Wearables are a great way to Promote your Brand

Tech items. There are tech items under $10 to be had, earbuds are very popular and with all the items we need to charge, USB hubs are gaining popularity (charge 4 items at once!), power banks (everyone should have more than one), selfie sticks, (just did them for a company that has 100's of locations so the HR department can use them to post the happenings at each office), and bluetooth speakers.
Notebooks and Journals. A lot of people told me that with our smartphone/tablet world that notebooks and journals would become extinct. Wrong! Most everyone still likes to write things down. As a matter of fact, because there are so many great options, they are one of our top recommended items.
Drinkware. This category has really blossomed over the years. There are so many great options of sports bottles, insulated tumblers and travel mugs now. And don't forget about the infuser bottles (so many people love having the ability to add fruit to their water).
Sticky Notes. I don't know about you but I still use them all the time. We have a new item that is sticky note "tape" you cut it to the size

Sticky Note Tape a Great new Promotional Item

you want! I love it – and talk about getting desk advertising space!!

Stress Relievers. People need that stress relief. I walked into an office the other day and they had 5 different stress relievers on their desk. She said it depended on her mood of the day which one she would be using. You can get them in just about any shape now (the one on my desk is a guy with a sandwich sign on that reads – Our Service Rocks! And when you squeeze it talks – it makes me smile when I need it).
Lighting. Flashlights are needed and not necessarily something we all think about going out and buying. I keep one on my desk because the power goes out and we are plunged in darkness. I have one in my car, just in case. We actually give one as a gift that has a magnet on it so it will attach to the hood of your car or other item so you have illumination hands-free! And a new great item is the LED shoe light that glows bright for walkers and runners.
Healthcare products. You don't have to be a healthcare company to give out useful items like band aids, hand sanitizer, insect repellant and kit aid kits. Great for sporting events and trade shows.
Now, I recognize that that's more than 10 items, but I think you'll agree that there are just too many great options to limit to just 10 individual items!!
So, pick a category and determine what works best for your brand, event and timing and remember always pick quality!!