*This post may contain affiliate links. As an Amazon Associate we earn from qualifying purchases.
We all know that people like Free STUFF and at trade shows and other events many times people will just walk by and scoop up all of your promotional giveaways. That of course is not your intention. At a recent trade show I had to constantly tell people that our display items were showing giveaway ideas and they were not "our" promotional giveaway. Of course, they wanted our display ideas as well as our giveaway. It was so hard not to have an empty display by the end of the day!
So, if you want people to be interested then you really want your giveaways to intrigue and be useful. You want your prospects and clients to stop at your booth so that they will want to talk to you about your products or services. You want them to want more than just the free stuff.
Giveaways Should be Impactful
Granted it can be hard to find trade show giveaways that are inexpensive and impactful but it can be done. And it should be. We've discussed this before, it takes some planning. Don't just have someone get "stuff" to hand out as that is what you will get… "stuff". If it's a large show then have various levels of giveaways but don't just get stuck giving just anything.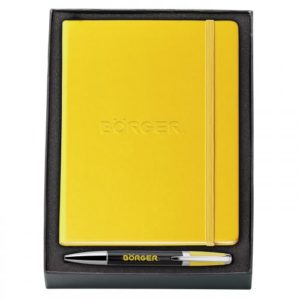 Promotional giveaways should be seen as an extension of your brand identity. Think of them as experiential branding. What other branding can your prospects and clients actually touch (possibly smell and taste) and use? I don't think they create a bond with a Television commercial or radio spot, but they may with the right promotional item. I met with a client today that had a journal and a pen that she has truly bonded with. She only wants to use that style journal and that style pen. She loves the way it writes and the journal happened to have come in her favorite color – yellow!
And now, every meeting she goes to she not only remembers the kind client that gave her the journal & pen but she shows them quite regularly to others (many have actually tried to take her pen and she says she feels bad but she always says no). So the branding is getting lot's of exposure!
Giveaway Should support Branding Strategy
Sometimes you don't know what the connection may be or why, but it is a connection you are trying to forge. Because that connection is what will keep your company, brand, products or services top of mind. That's why promotional giveaways should always be a key ingredient to your branding strategy.
How do you make sure your giveaway ideas hit the mark? Well, first you need to think about who your clients and prospects are and what you can give them that speaks to them about your company and will reinforce your message while being used.
We have a client that's in the business of selling and repairing airplane parts. Now, we are not going to suggest that they give a screwdriver to their clients (even though we may at certain of their trade shows – screwdriver pens and other tools for mechanic shows would work) but their clients are involved in the business of travel (and do travel extensively). So we are concentrating on various levels of items that can be used when travelling. For instance, on the less expensive end we have the airplane stress reliever and airplane shaped mints and even airplane shaped paper clips (that come in a great tin) to the airplane shaped USB to items that they can use while travelling like travel wallets, travel kits (with sleep mask, ear plugs and neck pillow), luggage tags and so much more.
We have another client that does extensive business internationally and their target customers are very wealthy individuals. This is a client that is very selective in what they give to their prospect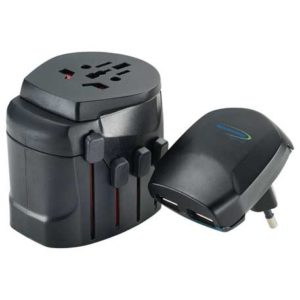 and is willing to spend money to make a statement and impact. We recently did a custom box with their logo on the top and inside was a universal travel adapter with a USB port (would work in 150 countries) along with a power bank and Bluetooth speaker. Anyone that travels extensively would love to receive this! Believe me. And the response has been tremendous.
Promotional Giveaways are Used
As you can see, there are many ways that you can use your giveaway as an extension of your brand. You just have to remember who they are for and why you are giving them out. I've had people tell me time and again that people just won't "use" the promotional giveaways if they gave them out. Well, they are wrong. If you are thoughtful about the audience and provide a useful item then I can guarantee you they will be used and remembered.
According to a recent Promotional Products Association International study they found that recipients of promotional products have a "significantly positive opinion of a business through
Increase in positive overall image
More position perception of the business
Higher likelihood of recommending the business
Higher likelihood of patronizing the business"
With the ability to significantly enhance your marketing campaign then finding the right promotional giveaway is worth the effort.
In our database of promotional items we literally have over one million product offerings. Granted, there are more than 10,000 different pens and more than 1000 hand sanitizers and about 7000 travel mugs but the point is, there is a promotional giveaway that will work for you. The list below is just a sampling of some of the top ideas by budget to consider. Just remember to tailor your giveaways to your target and your brand.
Keep in mind that many of these ideas are available at multiple budget levels. For example, there are pens for as little as $.29 and for over $100.00 so there are many choices to review for your brand.
Some Top Ideas for Giveaways:
Ideas under $1.00:
Cleaning Cloth for tech items
Stylus pens
Cord organizers (tech is big)
Notepads/Notebooks
ID Wallet or Coin Pouch
Smartphone Wallet
Bag and Binder Clips
Hand Sanitizer & Lip Balm
Stress Relievers (and yes, they do relieve stress!)
Ideas for $1.00-$5.00:
Tote Bags (have a long life & are used regularly)
Tablet Bags
Earbuds
Smartphone Accessories
Sports Bottles
Screwdriver Set (had to include this one)
Life-Saving Hammer
Cooler Bags
Smartphone Holders
Ideas for $5.00 – $10.00:
USB's (one of the most popular in this price point)
Umbrellas
Business Briefs
Duffels
Stainless Sports Bottles
Journals (and with pen combo –very well received)
Travel Adapters
More Expensive but top items if budgets permit:
Anything tech oriented
Powerbanks
Bluetooth Speakers
Noise Reduction Headphones
Wireless Desktop Speakers