*This post may contain affiliate links. As an Amazon Associate we earn from qualifying purchases.
I was interviewed on a local radio show recently about Entrepreneurship: Staying the Course. The purpose of the interview was to help local businesses understand what it takes to stay in business. Since I've had my own business for 23 years so I guess I qualify to comment. One of the key ingredients, of course, is business promotion. If you are not actively promoting your business on a daily basis how do you expect to stay in business?
One of the questions was centered around a slow return for businesses after the recession. While I know the recession affected everyone differently most businesses have rebounded to some degree. I indicated that maybe some company needs to look within themselves and make sure they are just not making excuses. Are they out there promoting their business? Networking? Asking for referrals?
Daily Promotion is Key to Business Growth
I always laugh (to myself) when people ask us to put together a marketing plan for to promote their going out of business sale! Really? Now they want to market themselves. Stop. Think before it gets to that point. It's not too late to start developing a program to effectively promote your business to your target audience.
Of course, you need to develop the overall look and feel of all your communications and logo to not only match your company offerings but they also need to have your personality.
One of the key areas of my business promotion is to make sure I am always visible to my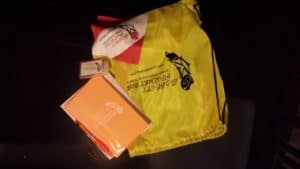 clients. And since I can't be with them every day (although I am fun to talk to, I think even I would be bored with myself if I called on a client daily). So, I am always striving to get "real estate" (space) on their desk, or in their purse, briefcase or car. That way I stay top of mind.
Consider this, each day your client (or prospect) comes into their office and turns on their computer and your name is in front of them on the mousepad or pours coffee into their favorite mug with your logo on it. I would bet that even subliminally your name is being seen.
Whenever I go to visit a client or prospect I always take a useful gift. Typically something that will be used every day. We have a "gift" closet that I visit before each meeting and think about what I want to take.
We have journal books, post-it note acrylic cubes, hand sanitizer, mobile device & eye cleaning cloths, USB's, highlighters and flashlights right now. We get a small quantity ofeach so we can always have something new.
Even though one of the services we offer is promotional products, I knew long before their value for business promotion. People always say thank you. I know they use them because many call me when their journal is full or they lost their favorite "Gossett" pen. And of course, that's one of the reasons we do it. Wouldn't you like your clients calling you? It gives you the opportunity to discuss their business and of course set up a meeting to bring them the newest item and their favorite journal or pen!
There are many useful items that can be used for just about any business. Just be sure that you include a way for them to reach you, either your web address or phone number. Nothing is worse than a client wanting to get in touch and it's not easy for them to do so.
If you want to see one of the reasons I became an Entrepreneur, the video below is on the right track.