*This post may contain affiliate links. As an Amazon Associate we earn from qualifying purchases.
There are many ways businesses use a promotion item. You may use it as a thank you gift for a new client or a referral, get traffic to stop by a trade show booth or you may want to call attention to your brand at a community event. But a promotion item can do more than increase brand awareness they can also be effective in promoting action now.
When you are developing your sales promotion program a primary goal is to change the buying behavior of your clients and prospects so that they take immediate action and buy your product or service NOW not at a future time. One of the ways to achieve this goal is by using a promotion item.
Gift with Purchase can Increase Sales Now
How can a promotion item help you to get your clients and prospects to do something now? One example would be as a gift with purchase. We all love free "stuff". It seems to be in our DNA that we like to get something for free. You may be interested in a particular product or service, but maybe you can't decide.  Then you see, "free gift with purchase" and that tips the scales so that you feel the potential risk (different or more of the product/service) is definitely worth the reward (the free gift).
If you've ever shopped the cosmetic area of a department store I am sure you have seen an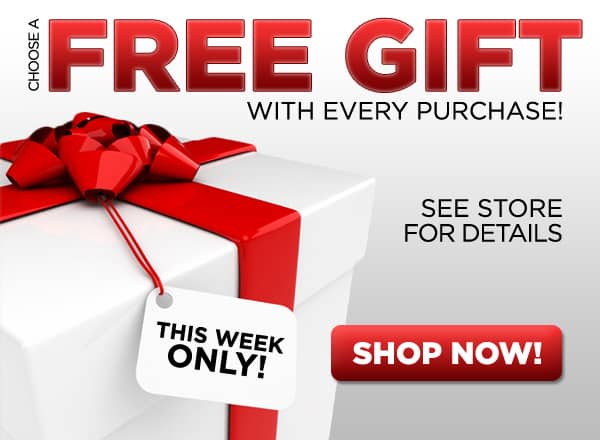 offer of a gift with purchase. You purchase a certain amount of make-up or aftershave and receive a free cosmetics/utility bag or tote bag. I have one I received not too long ago and use it daily and I admit I purchased a new product to try to receive it the gift.
If you have ever watched direct-response television, better known as infomercials you see free gift with purchase all the time. If you buy now we will send you this free accessory to use with your product – but you have to ACT now to receive it. That is one of the truest forms of sales promotion. Most of these items are branded items, imprinted with the company name.
Another example for getting action now is sending part of a gift set or gift in the exchange for a meeting about a new product or service. You only get the second part (or complete the set) if you agree to the meeting. This is also an effective technique for getting your target prospects to a trade show booth or hospitality room.  You send them a pencil as part of a pen/pencil set and if they meet with you they receive the pen – hopefully to use to sign on the dotted line!
Even non-profits use a free gift for donations. How many times have you donated to a worthy cause and received a free t-shirt or tote bag? I recently donated to a cause not expecting anything and lo and behold a week later I received a portable water dish for my pet (it was a pet rescue charity). I was surprised and thought they should be using my donation for the rescues! But, with the gift was another "ask" for a donation and a sad story about a recent rescue and how I could help. So they used the "gift" as a means of contacting me again with the hope that I would respond again to their plea for more donations (I did).
As you can see a promotion item can be a very effective tool in your sales promotion arsenal to help you achieve your goal of promoting action now.