*This post may contain affiliate links. As an Amazon Associate we earn from qualifying purchases.
It's time to start finalizing your plans for your corporate holiday gifts if you want to be handing them out in 2015. Yes, it's still October, but to be perfectly honest, as we get into November you run the risk of your item of choice being out of stock. And most manufacturers don't replenish until early 2016. They don't want to be carrying the huge inventories at the end of the year.
Quality over Quantity for Corporate Gifting
First we recommend you determine who gets the corporate Christmas gifts this year. Employees, vendors and clients should be reviewed. Personally, we like to thank our vendor partners with a gift basket of food goodies each year to show our appreciation for all their help making us look good. So don't overlook them!
Secondly, determine what you are going to do for your employees. Many companies host an annual holiday party or give holiday bonuses instead of individual gifts.
By far, the largest area of review is your clients. Who do you want to thank for their continued business.  Do all your clients warrant the same level of gift? Many companies have a tiered process according to business level for their corporate gifts.
To help your shopping task, we've put together corporate gift ideas lists to help you make sure you are giving out the best possible gift based on your budget:
$5-10 Corporate Gift Ideas: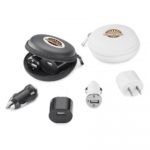 Charging Kit (remember Tech is BIG)
Jolt Charger
Journal Book (people still like to take notes)
Picture Frame
Wine set (be careful with alcohol, not all individuals drink)
Also, keep in mind there are any corporate gift ideas that can be more industry specific, for the travel industry you may want to give a special luggage tag or if you are promoting a health initiative a great infuser bottle might be the perfect corporate holiday gift.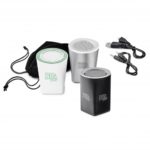 $10-25 Corporate Gift Ideas:
Bluetooth Speaker (tech is power and sound!)
Power Bank
Golf Umbrella (and it's not only for golf)
BBQ Set
Backpacks or travel bags
And there are many name brands that have great corporate holiday gift items to choose from that can also be branded with your corporate logo from:  Aladdin, Artic Zone, Brookstone, Cross, Guess, High Sierra, Igloo, New Balance, Travel & Wells, Isaac Mizrahi, Thermos, Totes, Wenger and more!
$25+ Corporate Gift Ideas:
Be sure to know your client's gift policies. Many companies have instituted policies that employees cannot accept gifts over $25.00 from vendors.
Noise Cancelling Headphones (great for clients who travel)
Speaker Cooler
Power Bank
Bluetooth Earbuds and Speaker
Thermos Travel Tumbler
Power And Sound the Big Corporate Gifts for 2015
As you may note, a power bank and sound was highlighted in all the budget categories as there are varying levels of each type. If you are going to be giving a power bank this holiday season then I recommend you get the most power your budget can afford. Power banks range from 2000 mAh to over 10000 mAh. The lower end provides enough power to charge most smartphones to about 2/3rd of a charge. The higher the mAh the more items it can charge at once, the faster it charges and the more completely it charges. I, personally have a 9000 mAh power bank. Absolutely love it. It changes my smartphone quickly and I can also charge my tablet at the same time!!
Don't forget, this is your way of thanking clients, employees and vendors, the last thing you want to do is give them a gift that is not high quality. In this regards, less quantity, better quality for your budget should be the rule.