*This post may contain affiliate links. As an Amazon Associate we earn from qualifying purchases.
I have been in business for 24 years. The promotion of my business is an important part of my daily plan for maintaining and growing my business. If I'm not working on bringing in clients or reaching out to my existing clients daily then my business wouldn't have lasted this long. I am constantly trying to be top of mind with my clients for any of their promotional marketing needs. One of my key strategies is to stay in front of my clients even when I'm not there. How do I achieve this? By giving them promotion items.
Whenever I visit a client I bring a gift that they will use regularly. I have pens, notepads, sticky notes, hand sanitizer, cleaning cloths, bags, rulers and more. All items that I hope they use each day and see my company name. That way when they do need something, I am top of mind.
The promotion items are a mainstay in both my push and pull sales promotion strategies.
Push Strategies Involves the Customer
A push strategy makes sure your product is in front of your customer. This works particularly well when you already have an established relationship. A push strategy can include face to face meetings (showrooms), point of sale displays, trade shows – anything that takes your product to your customer.  Many manufacturers utilize a push strategy by offering retailers incentives for stocking their products.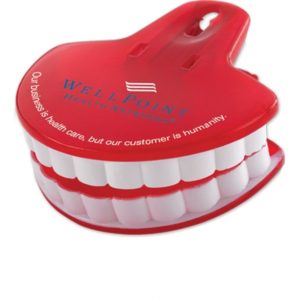 For example, you exhibit at a dental trade show because you sell dental equipment. Maybe you hand out a clip that looks like teeth? Trust me they will use it and remember you each time! My company exhibits regularly at trade shows and we are always providing an item that will "push" attendees to remember who we are and what we do. As you can see, promotion items can be an effective addition to most any push strategy.
Pull Strategy Creates Demand
A pull strategy works by creating demand – making your customers seek out you and your products. Think about the last time you saw a television commercial for a certain type of food product and then went to the store and asked where you could find it or even request that they stock it? Pull strategies can include Gift with purchase (providing a free sample of a new product for trial – they see the benefits and are pulled back to purchase in the future), sweepstakes & contests, coupons, rebates as well as all types of advertising from television and print to social media efforts.
For example, you have a contest for people to sample your product and write a blog about it and everyone that enters receives promotion items (maybe you have a variety to choose from) and the best blog entry wins a trip to the factory in France (or some other great location). You are pulling people into seeking out and asking about your product.
And many companies use both push and pull strategies. One obvious example of a combination strategy is from car manufacturers and dealers. The manufacturer is pushing you to the dealer with branded advertising that shows you the benefits of their car over another one. The dealer then pulls you toward their business with discounts and other dealer incentives. Recently a local car dealer offered a choice of promotion items as an incentive for a test drive. One that was particularly popular was a deluxe trunk organizer and an auto safety kit combination.
As you can see, promotional items can be a key element in your push, pull or combination sales strategies.
Just keep in mind, no matter what your business sells, it is critical that the mix of push and pull is correct.  Make sure that your push (your supply) doesn't out way your pull (the demand for your product).