*This post may contain affiliate links. As an Amazon Associate we earn from qualifying purchases.
Infomercials Get Down and Dirty To Create an Experience
Infomercial definition is a TV program centered on information about a product, with a suggestion to buy incorporated throughout the presentation.
The product being featured solves a problem or meets a need that you may not have even been aware you had.
Generally the experience of using the product is demonstrated throughout the infomercial, along with examples of how absolutely miserable people were before the new and improved product was created, to drawn the audience in.
The premise is that your life will be so much better once you purchase the featured infomercial products or services.
Webinars are Sophisticated Ways to Educate and Inform
On the other hand webinars are those online, web-based seminars.
They are traditionally delivered in real-time where the instructor and audience are able to interact.
They are sometimes pre-recorded, or the original webinar is made available for later viewing.
The similarity webinars have with infomercials is to help people solve a problem or learn something new. While a webinar may not be as pushy as an infomercial, make no mistake they both exist to promote a product, a service or an idea.
The challenge is how does one present a professional webinar without appearing to be an infomercial huckster.
While Webinar Topics Vary; Tactics Are Similar to Infomercials
I have participated in many well-delivered and informative webinars, on a variety of topics that interest me. Most are professional presented by someone who is a real, or a self-appointed, Authority on the subject matter.
For purposes of this article let's position one side of the spectrum of webinar topics as social issue. Examples such as 'Reducing substance abuse among today's youth" or "Effects of the growing Zika virus' are relevant ones.
The other end of the spectrum I'll focus on is knowledge based or technology issues, presented to change your life or business practices. "A new way to create high-value clients" or 'How to access and utilize analytics" are some examples.
I present such diverse subjects because I want to demonstrate how all webinars use some form of promotion to motivate the audience.
In the Zika Virus example the audience needs information about the root of the problem, how to recognize the environment that causes the problem to grow, and how to prevent or reduce the problem.
As an authority, the presenter immediately becomes the 'go-to' person for information and future assistance. He or she sets the stage and sells a point-of-view. Essentially both infomercial and webinar presenters are using the basic steps of the selling process to:
Gain attention
Build rapport by telling a story
Uncover wants and needs
Present consequences and rewards
Determine next steps
A webinar about an important social concern essentially uses the same structure as an infomercial. The difference in appearance is that the infomercial is structured to sell you something that you enjoy buying. On the other hand, no one enjoys hearing about the threat of an infectious disease, yet both audiences are motivated to take action.
Helping People Solve A Problem
Creating a highly sales charged webinar may seem creepy, maybe too much like an infomercial, because of the higher purpose of educating the audience.

However, in the social issue example, the presenter does the audience a disservice if the topic isn't demonstrated through stories that hit home and/or if they don't leave with a website address or other resource information to implement prevention and change.
So let's say you are the presenter about 'Accessing and Using Analytics'. If you are not using the sales process to present your case, providing information about how to purchase your product, along with incentives to purchase sooner rather than later, you too are doing the audience a disservice.
Here's how it's done in 5 Steps
1.) During the introduction, position yourself as the authority.  More importantly, share why you are passionate about the product or service. Become the go-to person for information, and future purchases.
2.) In the main presentation you should educate participants, that's why the were motivated to join in the webinar.
Be vulnerable. Tell stories about a world before your product, the industry, recent advancements, and perhaps some mistakes made and lessons learned in developing your product or service.
3.)If you interject some information about your breakthrough technology, your latest white paper or how your company is working in coopetition with other industry leaders, it's perfectly OK. People are here to learn about the topic, about you and about your product.
Generally in an hour long session presenters take the opportunity to promote every 15 minutes. This could be as simple as referencing some research that appears in your book or research paper, or referring viewers to a URL to look at your current offer.
Like an infomercial audience experience, webinar participants should become involved with the product or service.  In informercials, the experience of buying the product becomes merged together with the product experience being demonstrated. In both mediums the goal is to highlight that you have identified a big need and that you have a real solution.
4.) Before going to Q&A with the audience, insert a call to action. Provide listeners with a link to buy your product, consider offering them a promo code if they buy during the webinar session.
During the Q&A keep the link address on the screen so participants can browse as they listen in.
5.) Send a follow-up with a thank you for attending email with a promo code, discount or value.
Are You Passionate Enough To Succeed ?
"If you believe in what you are doing, then let nothing hold you up in your work." -Dale Carnegie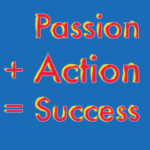 When you compare the social issue example with the business sales example, using a toned down infomercial promotional strategy does not seem too pushy.
You have invested your time and money in uncovering a need.  You are genuinely helping people solve a big problem.  Create both parts of your webinar effectively. Combine an appealing product or service usage experience, along with a captivating buying experience. You owe it to your audience to motivate them to take action to make their lives or business better.