*This post may contain affiliate links. As an Amazon Associate we earn from qualifying purchases.
It really doesn't matter what type of business you have, you want to keep your existing customers coming back to you time and time again. Unless your business model is so unique that you don't rely on repeat business for your livelihood. If that's the case, we need to talk!
However, most know the old adage, "it's easier to keep a customer than get a new one". As a matter of fact, according to INC Magazine, acquiring a new customer can cost your business 5-10 times more than selling to an existing customer.
That's why a rewards program may be an important element to consider for your overall sales promotion program.
An effective rewards program builds on your brand image and cultivates a relationship with your customers. A truly successful program will have your customers thinking of your business first when making a buying decision.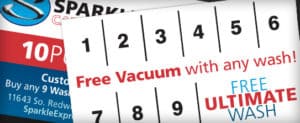 Just make sure you think it through, look at what your competitors are doing and design your rewards program for the long term. Ask yourself some serious questions, "Can I afford to "give" whatever it is to build the loyalty?" Keep in mind that some programs have lasted years and years – think airline programs. You don't want to introduce something that is successful but too expensive for you to maintain.
Of course, the type of program you develop depends on your individual business, size and target customer. I would recommend that you don't rely on discounts exclusively. In my opinion, discounts alone don't build loyalty and may ultimately damage your brand image.
Some more common rewards program elements include:
Upgraded or free shipping
Free gift
Points to redeem for free merchandise
Special discounts or offers for rewards members
Chance games to win based on purchase levels
Special event invitations
Birthday/anniversary surprises (cakes, cupcakes, flowers, books)
And you don't have to be a large company to have an effective rewards program. My local dry cleaners has a "punch card" rewards program with dollars amounts on it. Each time I pick up my laundry he punches the amount I've just spent. When I reach $100 in spending I get a free shirt cleaned or a discount on tailoring. It's actually a small discount when I look at it (the free shirt cleaning is only worth about $6.50) but I appreciate that they recognize I come back again and again. They also invited me to fashion shows at the local department store that include "special savings' night for their customers in the store. They know me by name and in my mind I have a relationship with them and I repay them with my loyalty.
Of course once you've designed your program you want to develop the metrics for which you will measure it's success. Do you measure the length of time a customer stays with you or how often they shop with you? Do you measure the average spend per customer per transaction? Do you measure your customer satisfaction rates? Do you measure referrals? Do you measure complaints? Determine which one (or several) you want to affect and develop your program accordingly.
I was in a meeting with the management team of an airline last week and their story was very impressive regarding their customer profile tracking. They began new metrics for all of the above and more a few years ago. As a result of what they learned they have changed their customer profile and focus to be more targeted in their overall marketing efforts. They are now prepared to redesign their rewards program in a way that their target customers will find truly rewarding and build more customer loyalty.
A good lesson for us all.