*This post may contain affiliate links. As an Amazon Associate we earn from qualifying purchases.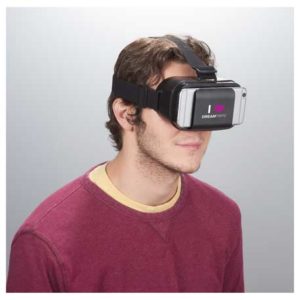 Virtual Reality (VR) has really hit the mainstream over the past 2 years. No longer is it the science fiction of the 1990 movie Total Recall with Arnold Schwarzenegger. In that movie you took "virtual vacations" and he of course realized he'd actually been to Mars… but that's for another time.
Virtual Reality was Predicted in 1930's
Anyway, Virtual Reality did not just appear out of nowhere. It was actually predicted in a 1930's story by fiction writer Stanley G. Weinbaum. His description is very close to the modern version of Virtual Reality headsets. And, VR has been slowly evolving since then. Very slowly, obviously. The first VR headset was patented in 1960 (even though the Virtual Reality name wasn't "born" until 1987) but the first mainstream VR headsets were introduced by Sega at the 1993 Consumer Electronics Show.  At the time it was thought this would be the future of virtual reality. Unfortunately, technical difficulties hindered the device from ever moving forward (and they weren't the only ones trying to get it right, Nintendo in 1996 also ended up discontinuing their efforts).
So what is Virtual reality?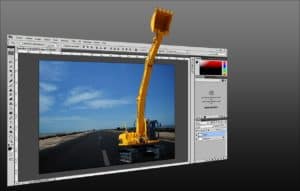 It basically means "near-reality" using computer-generated technology to simulate three-dimensional images and experiences.  You may know it's not really there, but with the technology you would perceive it as real.
Although companies started to utilize the technology more in 2014, if we fast forward to 2016, Virtual Reality took a giant leap forward. Not only with the technology but also due in part to the rise in smartphones with high-density displays and 3D graphics capabilities.
And because many consumers are enamored with the technology it has become a more viable vehicle for branding. Virtual reality marketing is a great opportunity for companies to showcase their brands' capabilities.
Early Adopters Saw the Future of Virtual Reality
One of the more exciting early adopters of the technology in their in-store marketing efforts was footwear company Merrell  who, in 2015, teamed up with virtual reality studio Framestore. They developed a thrilling outdoor experience that pushed the envelope of a retail experience. You walked a treacherous mountain path with your new shoes through virtual reality. Very cool!
And it continues to get more mainstream. Early in 2016 McDonald's in Sweeden tested "Happy Goggles" where the Happy Meal box transformed into a virtual reality viewer. McDonald's created a ski-theme game for use with the goggles. So far, I haven't seen any other McDonald's promotion for the "Happy Goggles" but it does show just another way companies are using them.
Use VR to Enhance a Trade Show Experience
I mentioned in a previous article about VR technology that we actually utilized VR headsets for the introduction of a new cruise line at travel agent trade shows. The VR headsets were available to visitors to the trade show booth and they could download the virtual reality apps (or use one of the smartphones at the booth) and take a tour of the ship. Huge Success
Another example is a personal one. Over the holidays I needed to replace my Android smartphone and  I happened to be in Costco and saw the Verizon kiosk. Hadn't thought about buying my service there before, but they were running a promotion. Not only did I get a gift card for Costco I also got a VR headset. When I inserted my new phone into the headset it immediately connected to their app. Great usage!!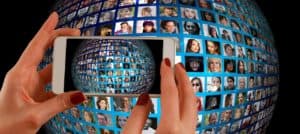 VR has Endless Marketing Applications
As you can see, there are endless opportunities, so how can you use virtual reality marketing to promote your business? First, recognize it is a multi-step process. You can't just get the VR headsets and hand them out and think that's it (unless you are Verizon and Android partnered up).
Yes, you can hand out branded VR Headsets without having your own app. It would be similar to handing out Bluetooth speakers – you expect them to listen to music that you didn't produce. Then the headsets are used as more of a keep top of mind awareness marketing mechanism versus a more comprehensive campaign.
Many Virtual Reality Apps to Choose From
And,  there are quite a number of virtual reality apps that are available to download:
Games
Vrse and NYT VR (both are more of an informational and news vehicle),
Discovery VR (yes, from the famous TV company – imagine all the locales you could explore and your right),
VR one Cinema (their headset with a companion app and you can watch movies on the "big" screen),
Vrideo (a YouTube-style app that let s you stream content through a headset)
YouTube as they have many 360-degree videos and virtual reality videos to take advantage of.
So if you are handing out VR headsets you may want to be familiar with some of the apps to make recommendations for use by the recipients.
Seek Out Expert VR App Developers
When you are ready to take it to that next level and develop your own app I recommend seeking out companies that specialize in the technology. Yes, there are do it yourself options, but as always, this is your branding your putting out there and the experience with your brand. Do you really want it to fall short? You don't want technical issues or just bad production value to make people not want to buy your product or service, right?
Virtual Reality Is Experiential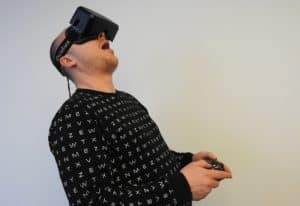 The idea of using Virtual Reality marketing is to demonstrate a products features and benefits more fully and/or expand the users experience either before or after purchase. This is a very visual and experiential technology and when you are putting together your plan you need to think in those terms.  Basically any industry can benefit from the VR Technology boom, a few examples:
New Car Driving Experience
Vacation Experiences/Tourism  (can be either touring or  experience – think water rafting a river)
Colleges and Universities (an on-campus tour without being on campus)
Real Estate (no brainer – tours of homes, neighborhoods)
Sports Teams (a full fan experience following players at practice)
Health Care (alleviate fears for surgery, tours of hospital experience)