*This post may contain affiliate links. As an Amazon Associate we earn from qualifying purchases.

In the 7 seconds it takes to make a first impression, demonstrate your brand image with cool business cards to instantly establish an identity. At a recent networking event I was introduced to a magician who performs at corporate events. As he handed me his card it went up in flames and disappeared. With slight of hand a new business card appeared, which he then handed to me. Now that was cool. Here are some business card ideas to set you apart.
Color Creates Subliminal Brand Appeal
Blue gives a message of authority; Red indicates that you are ambitious, driven, confidant and outgoing; Yellow radiates optimism and signifies that you are easy to get along with.
Seems crazy but studies indicate that subliminally, color sends an immediate message to the receiver of your business card. It creates an immediate emotional response and an attitude about you and your brand. The Dewey Color System and other resources helps you uncover ways to subliminally convey businesses strengths.
While your corporate identity colors should be integrated into all your communication vehicles, business cards can be enhanced with a dominant corporate color to make for a cool first encounter.
Using a gold, silver or colored foil edge or logo creates a dramatic effect; makes your card stand out from competitors to project an upscale, flashy or dramatic impression.
Make Them Feel Your Message Using Texture
Unique business cards use multiple senses to initiate an opinion about you and your brand. Consider choosing a paper stock that has a tactile quality related to your business.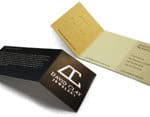 A smooth linen or lacy texture for a Wedding Planner and a rough tree bark like textures for an Arborist are very different tactical approaches that convey an instant message. Usually there are choices of paper stocks available, so ask your printing supplier to offer suggestions to make your presentation a tactical sensation.
For an extra fee, embossed cards and raised ink printing are also great ways to tie-in the sensation of touch. Embossing stimulates both sight and touch to immediately convey a message and stimulate a conversation. You can emboss your card with a wave, a brick wall, a lacey texture or anything that makes what you do stand out and memorable.
Raised ink can be used to create an elegant, high quality image or dramatically make your logo stand out.
Die Cut Cards Grab You a Slice of Attention

If your business lends itself to a well-designed card that can convey a unique image using a die cut, consider the cost and being able to include you information legibly.
A baker using a standard business card size with a die cut along the edges and the color and texture of a cookie, creates an immediate association.  Using a standard business card size may make the die-cut process more affordable.
Don't  Be Just a Card

I have a card from a woodworker that was made out of actual wood. It is more than a card; it's a work of art that I keep on hand to recommend for custom design work.
Plastic or clear business cards can also be enhanced with unique tactile elements to immediately telegraph your specialty. If you are in a creative or innovative industry these techniques set you apart and create a brand personality.
Be Really Cool and Make Yourself Useful
Here is where sales promotion and business cards merge when you are out and about networking with prospects.
A folded business card with a break-away coupon, or other offer, motivates prospects to purchase action.
A plastic card may also be a gift card that you or the customer may load with more cash to keep them loyal.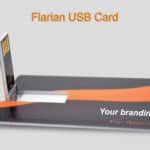 A Wafer thin USB drive can be built into your card to provide additional information, proposals, catalogues and any number of useful sales data.
Great for trade shows and high-end products. This option can also be used as a gift, by leaving space for the receiver to use for personal file downloads. The beauty of this feature is the card and USB fits in a wallet.  Who wouldn't want prospects and clients carrying your card everywhere, and using it frequently.
There are numerous ways to develop unique business cards to gain immediate attention and build a long-term relationship. You only have one chance to make a first impression. Don't waste it. Be creative…and don't forget to smile!