*This post may contain affiliate links. As an Amazon Associate we earn from qualifying purchases.
Have you ever walked into a retail store with one purpose in mind, say pick up a gallon of milk? And then you walk out with not only the milk but a new cereal brand or something totally unrelated like a new wine to try?
I would venture to guess the answer is yes! And in all probability it was the result of a POP Promotion, point of purchase display. These displays are designed to get you to stop and look at something new and ultimately to buy something that may or may not have been on your radar. To make sure that happens, the POS (also known as Point of Sale) displays are designed to be eye-catching and offer either a special promotion or a new product.
POP Promotions Grab Attention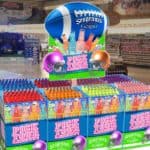 Think about during special holiday events the different types of displays you may encounter. It doesn't have to be a "true" holiday either – think Spring or Summer or Chinese New Year to the more standard ones like Valentine's Day or July 4th. And one that is very popular for tie-ins: The Super Bowl. You see them for TV's, new furniture, Food, Beer, Bars/Restaurants and so much more. A good one this past year during the month of January was conducted by a local supermarket chain and combined their in-store point of purchase promotion with a sweepstakes.
The sweepstakes gave shoppers an opportunity to enter to win a free trip to the Super Bowl (you could enter at the store or online). The grocery chain ran a radio, online and social media campaign to drive traffic to the stores to win trips and of course pick up the necessary items for their own Super Bowl parties. When you arrived at the stores, there was a large display (they partnered with several key party product brands (of soft drink, chips, cookies) for the big game.
POS Display Increases Sales
The promotion was a success driving up traffic by 18% and sales by 23% during the 4 week promotion. I am sure we will see something similar next year!
Another way that many use a POP promotion is to have a special that includes rebates. P&G (Proctor & Gamble) rebates are very popular as they have many of the most popular brands in so many product categories.
I was recently in the pet store to buy dog food and there was a POS display for Purina Pro Plan Dog Food with a great promotional offer. You could get a bag FREE if you mailed in the Proctor and Gamble rebate offer. Not bad. Definitely got my attention as I have two big hungry dogs!
As you can see you can use the POP promotion in many different ways. There are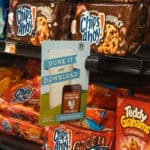 simple ones that are placed at the end of the aisle and include eye-catching signage with the offer to get you to stop and check it out. Others are more elaborate and may include lightboxes (lit up signs) or more interactive elements, mobiles or danglers (small signs that dangle from the shelves) and even signage on the floor to help increase the visibility of the offer and grab even more attention.
They even work in service industries. I was at the dermatologist recently and they had a beautiful display that included many skin care products. They had a special promotion that offered a buy one, get one free on certain items. Now, I don't go that often so maybe that's always their promotion, but so what, I took advantage. If they hadn't had the display and just talked about it while I was in the office I probably wouldn't have purchased.
So when you want to increase sales over a short timeframe, think about developing an eye-catching POP promotion and offer!