*This post may contain affiliate links. As an Amazon Associate we earn from qualifying purchases.
Should Brands incorporate Fair Trade into their strategies to define a purpose as global social issues grow in importance?
Ben & Jerry's ice cream made a commitment to convert all its flavors to Fair Trade certified ingredients in 2005. By 2015 all their sugar, cocoa, vanilla, coffee and bananas used in their products were certified by Fair Trade International.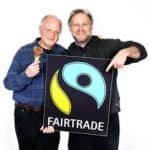 Although Unilever purchased the company in 2000, the buy/sell agreement specifically stated that the Ben & Jerry's social mission would not be interfered with.
The Ben & Jerry's brand sincerely believes that corporate social responsibility makes a difference in how consumers view their company and it's products. This effort has positioned the brand above their competitors. People fell good about their amazing tasting products, along with their personal ROI from believing they are helping the farmers who provide many of the ingredients.
Global Trade Deal and Fair Trade Agreements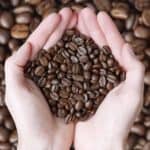 There is a big disconnect about keeping jobs and dollars within our US boarders and helping the plight of workers at home and in other parts of the world.
These products are typically grown in third world countries. Top categories are many produce products that are not grown locally.
They include: bananas, coffee, cocoa, cotton, sugar, tea and other fruits and vegetables. It seems the further one goes from the Northern Hemisphere, the more appalling the situation is for workers and the environment. Fair Trade agreements show that your brand cares for the plight of workers.
Fair Trade Defined
I often see the Fair Trade symbol on products and I wondered what is Fair Trade exactly. According to Fair Trade USA, a nonprofit third-party certifier of Fair Trade products, their definition states that:
"Fair Trade Certified™ products were made with respect to people and planet.
Rigorous social, environmental and economic standards work to
Promote safe, healthy working conditions
Protect the environment
Enable transparency
Empower communities to build strong, thriving businesses.
When you choose products with the Fair Trade label, your day-to-day purchases can improve an entire community's day-to-day lives."
So what does Fair Trade mean? It is an "alternative to Industrial trade that emphasizes small businesses and worker owned/democratically run cooperatives and requires employers to pay workers fair wages, permit union organizing, and comply with minimum environmental and safety hazards." As defined by Quizlet, a shared knowledge learning platform popular with students and Teachers.
Fair Trade Principles
The World Fair Trade Organization (WTFO) has developed 10 principles Fair Trade organizations must follow to gain the Fair Trade Certified label. These principles are:
Create opportunities for disadvantaged producers
Transparency and Accountability in management and commercial relations
Fair Trading Practices with concern for social, economic, and environmental well being
Payment of a Fair Price
Ensuring no Child Labor and Forced Labor
No Discrimination, Gender Equality, and Freedom of Association
Ensuring Good Working Conditions
Providing Capacity Building
Promoting Fair Trade
Respect for the Environment
The Growing Demand for Fair Trade Goods
New data indicates that fifty-nine percent of consumers now recognize the Fair Trade Certified label, according to the Natural Marketing Institute (NMI).
The NMI data is 'supported by new insights into consumer spending habits – particularly around the role of Millennials in driving ethical purchases – and an abundance of new Fair Trade products hitting store shelves' according to the NMI study.
"Consumers want accountability, responsibility and sustainability from the companies with which they do business," said Mary Ellen Molyneaux, President of NMI.  "The Fair Trade Certified label allows shoppers to readily identify products that meet these criteria."
How Corporations Use and Abuse Fair Trade Certification
No matter how you slice it, the top consumer purchase influencers are: good value, followed by good taste and nutrition.
In 2013 NMI produced a consumer survey that indicated 65% of respondents in their study believed that Fair Trade certification was very/somewhat important to their food and beverage purchase. However only 12% of the respondents actually bought Fair Trade food/beverages in the 3 months prior to the survey.
While this ratio may be changing, as more people become socially responsible and the economy improves, the bottom line is Fair Trade products are often more expensive. While Fair Trade labeled products sometimes cost more, the products that are available also tend to be high quality. Consumers that are switching a small part of their purchases look at it as a way to treat themselves while helping others make a decent living at the same time.
Starbucks Creates An Illusion
Starbucks coffee beans provided by Fair Trade farmers make up less than 10% of their coffee sales. However, for years they have been promoting that their beans are ethically sourced.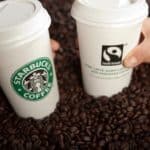 The company developed their own Coffee and Farmer Equity (C.A.F.E.) practices program to insure that they only purchase sustainably grown coffee by evaluating the economic, social and environmental aspects of coffee production.
Some proponents of the Fair Trade movement view this as a way to bypass the stringent regulations of Fair Trade certification to create the illusion of being a good corporate citizen. While Starbucks does not pass the stringent Fair Trade sustainability test, they have convinced consumers that they care about coffee farmers by creating their own 'fair trade" standards.
Kraft Kills A Deal To Save Dough
In 2010 Cadbury was purchased by the US based Kraft Food Group. Prior to the Kraft purchase, Cadbury proudly sourced it's Cocoa from Fair Trade farmers and proudly showed the Fair Trade Foundation label on its products.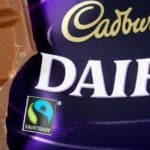 Alas, Fair Trade deals were deemed too expensive for the US conglomerate and they switched to promoting their own sustainable sourcing initiative, named Cocoa Life, across the entire Cadbury product range.
Like Starbucks, Kraft found a way to coerce consumers into believing their product is Fair Tradish. To their credit, Kraft is working with the Fair Trade Federation to have their Cocoa Life program independently verify its supply chain. A spokesman from the Food Foundation summed up this Krafty move as "less transparent company practices" than was available when they were actually certified.
P&G Skirts the Issue
P&G earns over one billion dollars per year from Folgers coffee sales, and is the largest coffee brand in the US. Recently a spokesperson for the brand stated they would follow consumer preferences for Fair Trade coffee. Apparently their customers care more about a low price than Fair Trade, and no changes are imminent. The Folgers brand has yet to be certified as Fair Trade, and according to critics, is far from being a green product. For now, it's working for them.
Be a Part of the Solution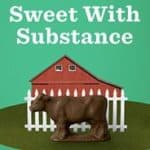 As Millennials and Generation Z enter the consumer market there will be more focus on the Fair Trade certification. Corporate attempts to distract their customers with their own sets-of-standards are coming to the forefront. What does Fair Trade mean as consumers shift to social responsible purchases?
Purpose Brands, that are part of the solution, by incorporating social issues into their business model and interacting with consumers on social media, may ultimately be among the most successful brands of the future.