*This post may contain affiliate links. As an Amazon Associate we earn from qualifying purchases.
Is direct mail marketing dead? Personally I say a responding "NO." Yes, there are many ways to interact with your key prospects and customers today utilizing the other direct marketing techniques through social media avenues but good old fashioned direct mail advertising can still be extremely effective.
If you're a B2B (business to business) marketer, direct mail can still provide you a higher ROI (return on investment) than many other mediums. We did a program recently for a newly renovated resort chain. They wanted to reach businesses to encourage them to have their meetings, conferences and/or incentive programs at one of their resorts.
Direct Response Marketing Effective
Of course, we worked with them to develop a target list of companies and industries that would fit their key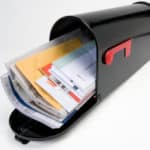 prospect profile. Companies that had a large enough employee size (500-1000) to have a good group size, yet small enough that they would not overwhelm the resort. We provided multiple response opportunities, phone, email, facebook and snail mail to respond. And surprisingly the cut-out and mail-in form was the response mechanism with the highest response rate (with a form to fill out people recognize that they are supposed to do "something"). We mailed out 20,000 pieces and received more than 1000 replies via snail mail alone!
After the three direct mail offer series was completed we received a better than 10% overall response rate. And, group sales exceeded their goal by more than 20%.
According to the Direct Marketing Association, on average for every $1 spent in 2012 on direct marketing advertising it drove a return of $12.18 in incremental revenue across all industries. In comparison, non-Direct Mail ROI was $5.26.
Now, I recognize that many feel that you can email just as effectively. And in some cases that form of direct response marketing can be extremely efficient especially with the "millennial" generation. However, keep in mind that spam averaged between 71 and 80% of all emails sent globally during the fourth quarter of 2012. That's a lot of "garbage" to sort through to get to your message. I don't know about you, but I hit the "delete" button more than any other most days. And I also admit, that I've deleted messages I should have read.
According to the 2010 DMA Statistical Fact Book, 79% of households either read or skim bulk mail advertising they receive. I don't skim 79% of my junk email that's for sure. For one thing, I would never be able to do anything else!
According to a 2013 study, direct mail (or to some junk mail sent via snail mail) still reigns supreme in response rate offering 1.1 to 1.4% versus .03% for email, .04% for internet display ads and .22% for paid search. And a targeted direct mail program boasts a 4.4% response rate, compared to target email's rate of .12%.
Compelling Offer is Key to Success
With all that said, it's best to develop a campaign that will utilize a number of mediums that target your specific profiled customer characteristics. A combination of direct mail, email and social media will give you one of the best opportunities of reaching your customers and getting them to respond.
As we are all inundated with 1000's of messages a day, cutting through that clutter is the key to a successful conclusion. And you may not hit it the first time out. Any marketing expert will tell you that your initial offer may need "tweaking" to get the response rate you need. And it needs to be a compelling offer that will encourage a response, to buy now, not a time in the future. That's why you are contacting them, right? So think about what would make you (hopefully you have the same mindset as your target) buy today and start your messaging there.