*This post may contain affiliate links. As an Amazon Associate we earn from qualifying purchases.
Business Development Loyalty Strategy
Continuing on the  four levels of sales relationships, here are loyalty program examples  where one becomes a trusted advisor.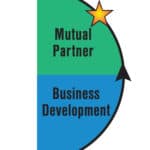 Business Development sales is the process of creating new business opportunities and finding innovative solutions to customer problems. Within the rental car company, customer relationships extend beyond the retail customer to the travel trade and travel industry partners. Research indicated that the industry dynamics were shifting, and the trade was being shut out of the travel discounts and commissions. This became a business development opportunity. Working closely with the trade, a loyalty program was introduced rewarding agents'  weekend and weekly reservations with points, that may be redeemed for an array of awards . The agency owner was provided with a commission override, based on agent performance levels.
For the travel industry prizes, every airline, hotel, sports sponsorship, theme park and other partners were pitched with the concept of awarding their product through our travel trade loyalty program. The result was an impressive catalog of travel  options and sports merchandise awards from partners. The award product was provided as trade for  advertising exposure. The program was unique to the industry and  leisure reservations soared.
Look at the many strata of customer you have to potentially develop customer loyalty opportunities that build upon each other. Customer Loyalty programs are a good business development strategy that may be used to  improve top line growth and bottom line profits.
 Mutual Partner Customer Loyalty Development
The concept of the mutual partner sales relationship is generally reserved to high-level business partnerships that work together to make money.  Positioning our service as a partner in achieving small business success was a big hit when we combined the mutual partner strategy with the basic premis of customer loyalty; providing  a hassel-free experience, recognized customers as individuals and treating them with respect. Ongoing analytics identified a niche of very small businesses that had several sales people who traveled frequently. After testing creative, we found that becoming their partner on the road to success was the best way to connect with this audience. Understanding the segment's need to save time and money, direct channels were used to communicate a hassle-free enrollment process, which  automatically provided discounts, express services and free days to get started. With little interaction, the mutual partnership approach took off and many of these small businesses grew to major accounts.