*This post may contain affiliate links. As an Amazon Associate we earn from qualifying purchases.
When you are promoting your company and brand you want to stand out. One proven way is with custom promotional items.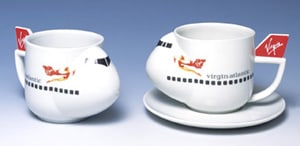 There are more than 1,000,000 promotional items to choose from that are already produced and waiting to be imprinted with your company logo and/or message. And, there are so many types of items to choose from:  bags, pens, mugs, notepads, USB's, calendars, clocks, fans, grocery totes, magnets and don't forget apparel – shirts, caps, sweaters & more. The list goes on and on.
Quality Is Important
When choosing an item to promote your company just remember it is a reflection of your company. Make sure you buy a quality produced item. The last thing you want to do is give someone a pen that doesn't write. If the quality item you want doesn't fit your budget rethink what you are doing. Maybe you get a smaller quantity so you can have the better quality item or choose something else that fits your budget and quality requirements.
You also want to make sure that your imprint is clean, crisp and legible. Less information on a small item is best. Your logo and a call to action (phone or web address) is really all you need.
Another way to really stand out and be unique is to have an item custom designed specifically for your company, brand or event.
Over the years we have designed many custom items for client programs: clocks, frames, key chains, awards, bags, mugs, bobbleheads, passport holders, stress relievers, notebooks, journals, pens, USB's and umbrellas (I am sure I've forgotten something really exciting). The materials used are varied: crystal, plastic injection molded, wood, pewter, glass, resin, rubber and more.
There are several steps you need to follow when producing a custom designed promotional item. First you need to be clear as to the reason for the item so the design reflects your goal for your company or brand. Are you introducing a new product or service, do you want to commemorate an event or milestone, or are you branding your company? Once that is determined it's much easier to think of the "what" you might want to have designed that would be most effective in getting your message across.
For instance, we worked with a leading binocular company and that was introducing a new style at several trade shows. Of course they couldn't give the attendees an actual binocular so we designed a custom key tag that was an exact replica of the binoculars – with their logo on them of course!
Custom Tasco Binocular Key Tag 
We also designed a special series of bags to be used for the turn-down gifts given by various sponsors each night of a conferenceWe designed the bags to look like postcards. The front had an image of the area of the city they were supposed to have visited that day with the days sponsor logos. The back looked like a typical postcard with a message written as if they were writing home about what they saw that day. It was such a huge hit that we were asked to do them again when the show came back a few years later.
Custom designed promotional items can be exciting to give and receive. Just a few words of advice: Make sure you carefully review your design, get a pre-production sample produced so you can approve before full production is started. And finally, make sure you understand the time needed to produce and ship the item. Most custom items are produced overseas (some can be done domestic US – some wood and pewter items especially) and can take 4-6 months to finalize and ship. The worst experience you can have is your special item arrives after your event.