*This post may contain affiliate links. As an Amazon Associate we earn from qualifying purchases.
This summer I was fortunate to have enough reward points to travel in First Class on my flight to Europe. I wanted the luxury of a sleeper seat since the flight was so long.  It was heaven for sure. We all know that the airlines (and other businesses) have been cutting back on their gifts for the travelers (I mean on some airlines you have to pay for everything – even a snack) and it was nice to see that wasn't the case for this Delta Air Lines First Class flight.
I'm in the business of business gifts and yet I still enjoyed receiving the branded travel kit on the plane. On the flight over it was a hard case with socks, tooth brush, paste, comb, razor, ear buds and an eye mask. I used the socks and the eye mask. They of course had noise reduction headsets as well, but we didn't get to keep those (too bad as they were nicer than the ones I had brought with me). On the return flight we received basically the same but packaged a little bit differently in a soft zippered case. I kept both. And, I will remember Delta Air Lines fondly every time I travel with my travel kit – for this type of trip it's one of the best gifts for travelers!
I've worked on or in the travel and tourism industry for most of my career and I can say that giving travel related gifts are a great way to say thank you to most any one – not just within the industry.
Show Appreciation with Gifts for Travelers
I've recommended many gifts for people who travel over the years (and it doesn't have to be someone that flies all the time either). Many companies have employees that are on the road all week long (think about your district sales managers, repair technicians, employees with long commutes and more) or clients and customers that travel regularly (for business or pleasure; air or road), or that travel is their business (cruise line, rental cars, hotels, destinations, airlines) no matter which; just about anyone could use a travel gift as a thoughtful way to strengthen a business or employee relationship. Everyone likes to be thanked for their hard work or their loyalty for doing business regularly.
Gifts for people who travel are also great sales promotion tools. How many times have you taken advantage
of a special gift with purchase for a travel excursion? As we've discussed before, FREE is a big motivator to help move the buying decision forward.  And it doesn't have to be just the travel companies – think about the car dealers that includes a free deluxe picnic basket, safety kit or weekender luggage with a purchase or lease.
Travel Gifts Great for Sales Incentives
And what about companies that have a large sales force that's on the road all week long – yes, they may equip them to be more productive with car and trunk organizers.  However, it also a great opportunity to use higher end travel gifts as an incentive to achieve key sales goals (think rolling duffels/luggage, Bluetooth speakers, headsets) and of course over the past couple of years, the power bank is a must have. No one wants to run out of juice on their smart phone or tablet in the middle of a sales call because they haven't been near an electrical outlet all day long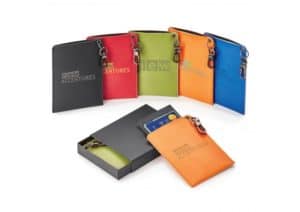 And one of the newer gifts for travelers is the new RFID protection items. Radio Frequency Identification is utilized on most new credit cards and passports, it's safer on most levels but if someone has a scanner they can read your card information from afar. Luckily there are a number of travel accessories that include the RFID protection including travel wallets, passport wallets and journals (with pockets for your cards) that blocks the scans. A must have especially for the international traveler.
7 Additional Gifts for People Who Travel
Depending on your target audience and budget here are a few additional suggestions:
Collapsible water bottle: There are several different styles and you can fill them up once you get through security at airports if not, they don't take up much room
Luggage/Keys Tracker: A great item that uses Bluetooth and a free smart phone app to track the item you left within a specific range
Bluetooth Speaker: I love to travel with my own speaker and with the new technology some of the small ones have great sound – good for conference calls too
Selfie Sticks: I know that some destinations don't allow, but especially for business it's a great way to get a group shot of your sales appointment and post on social media
Drink Tumbler: Maybe not for air travel (some people don't like to pack extras) but if the audience is driving a lot the new Yeti Tumblers are a great gift for travel option. The Yeti Tumbler keeps cold, cold and hot, hot longer than any other on the market right now. There are lesser expensive styles available that keep your beverage cold or hot, so depending on your budget you can make a wise choice (with branding of course!)
Bluetooth Keyboard : A perfect complement for the on the go traveler – works with tablets, smartphones, TV's and other Bluetooth enabled devices
Luggage Straps and Tags: Every traveler wants to be able to recognize their bags easily and the luggage strap or colorful tag can make all the difference
Remember, quality always matters when you are giving a gift (even as a promotion) and especially if you have branded the item with your company logo.