*This post may contain affiliate links. As an Amazon Associate we earn from qualifying purchases.
To me, candy advertising is a great brand builder year-round, but many companies gravitate to using candy advertisements in the fall. It does make sense as we are coming into the so-called "food" season. Halloween being the leader of the food pack – isn't that mostly a holiday built around candy ? Followed closely by Thanksgiving – now yes, that's more overall food oriented, but candy
corn, turkey themed chocolates and so much more make it a candy holiday too. And then you have the Christmas holiday season. I don't know about your office but we receive (and love them all) various shaped chocolates, mints, candy canes and of course those twelve days of Christmas candies!
Now, I'm not advocating that you have to wait for a holiday. As a matter of fact, giving or sending candy to a client or prospects office is well received any time of the year. As a matter of fact, during the more off-season your candy effort may be recognized and appreciated even more. Think about sending a box of branded candy to your client on the anniversary of the beginning of your relationship or to congratulate them on a new promotion.
A candy advertising gift can also be given for no other reason than to say, I'm thinking of you and wanted you to know I appreciate your business.
Candy Advertisement is a Branding Opportunity
No matter what the reason for giving, you need to remind yourself that although it's a gift it's also your branding opportunity and viewed as a candy advertisement for your company.
So, what's the best way to stand out with your candy advertisement? With all the new technologies, the branding opportunities are very broad. For chocolates you can have them made in the shape of your product or your logo and then brand them with your name, you can make your own custom chocolate bar with the wrapper branded with a message and maybe even a thank you "discount" coupon.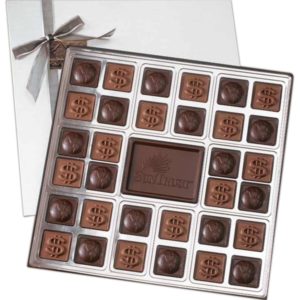 You can package many different candy items together for instance, using the beloved  Bazooka candy brands along with some of your own company branded candy and include them within a logo'd gift bag, box, tin or basket and tie it all with a your own logo'd ribbon. It is a gift, so make it festive!!
So, my top five reasons why candy advertising is effective are:
1.       Great exposure
Think about a full office or department you want to thank for their business or their time, what better way to reach so many people.
2.       People will thank you
Seriously, who doesn't like a surprise tasty treat?
3.       Packaging can be a lasting reminder
Many times the tin, basket, box or bag can and is reused within the office – many times in the break area so it is seen for months by everyone.
4.       Candy can look spontaneous
You can personalize your candy gift for any particular occasion – keep your candy handy and then accessorize for your specific client or event
(pick less traditional holiday's  – President's Day instead of Valentine's Day, First Day of Spring, Summer fun instead of July 4th – be creative with your                                                                                  spontaneous timing).
5.       Branded candy can be designed to suit most any budget
It can be made in a variety of styles, tastes, sizes and price ranges, just keep in mind that this is a candy advertisement for your brand image
and you always want to portray quality – so don't skimp on the size too much or the taste!!
And if you are not sure, send one to me, always happy to be a taste tester!