*This post may contain affiliate links. As an Amazon Associate we earn from qualifying purchases.
Have you ever said you were looking for cheap promotional items?  I know that at times your budget may not allow for expensive promotional giveaways, but please don't go "cheap". Do you want your company and brand to be known for cheap products or low level service? Because if you give cheap promotional items I can bet it will be the impression you leave behind.
I am sure we've all received cheap personalized gifts that end up in the trash. It may have been a pen that never wrote or a bag coming apart at the seams or a flashlight that doesn't light. Yes, you were able to get a bunch of "stuff" to giveaway but is it doing you any good in the trash can of your prospect or client? No.
Instead, you want to ask for an inexpensive promotional item. And trust me, there is a difference.
Quality, Quality, Quality
When you are evaluating a promotional product you really want to look at the following: Quality, Quality and Quality. It's just like they say when investing in real estate, it's all about location, location, location. Same principle with putting your brand out there – you want it to be associated with quality.
There are many high quality inexpensive promotional items available, you just need to make sure you are working with a reputable marketing company or promotional products distributor that can guide you appropriately.
For instance, there are literally more than 2500 ballpoint pens available under $.50. And probably more than half would end up in the trash for not writing. But that leaves more than 1000 quality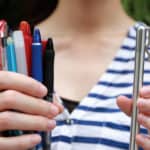 pen options to choose from.
What makes a quality pen? Well, the number one "marker" for a quality pen is that it is going to write every time (if you try 10 pens 10 out of 10 write) and most quality pens will write for a minimum of 3000 feet. That would write more than 6200 signatures, 5000 phone numbers and more. And, some inexpensive quality pens actually write for more than a mile! Now getting an inexpensive pen that will write that much is a much better investment for your brand giving you exposure over a longer period of time than maybe spending $.05 less and not getting any exposure except perhaps with the garbage collector!
Develop a Plan for Promotional Giveaways
When developing your promotional giveaways plan you want to look at the overall reason for giving out a promotional item. Is it to thank someone for stopping by your trade show booth? Giving a donation to your cause? Buying your product? Referring you a new customer? Thanking them for their time?
Once the reason why is determined then you can evaluate the budget you have to spend. For instance if you are trying to bring traffic to your booth at a large trade show with thousands of attendees you don't want to give a more expensive logo'd gift to everyone (maybe just those that ask for a meeting after the show) you want to look for something appropriate that is less expensive.  Most of our clients spend under $2.00 for their trade show promotional items.
Some popular items for 2015 that are under $2.00 include:
Mobile Phone Holders
Mini Auto Phone Chargers
Phone Card Holders
Special shaped Stress Relievers
Stylus Pens
Tote Bags
Drawstring Backpack
Hand Sanitizer
Sunscreen
Shaped Memo Clips
Keychains
And of course – Pens!
And the list can go on and on. If you have a theme for your show or program, you might want to give out a logo'd promotional item that compliments the theme. For instance, if you are at a dental convention maybe give out a memo clip that looks like teeth!
Just remember, no matter what you give with you logo on it, it should always be a quality product!