*This post may contain affiliate links. As an Amazon Associate we earn from qualifying purchases.
When I was a corporate marketing executive I regularly received promotional marketing items from vendors wanting to sell me their products and services. Some were very memorable promotional items. Others I couldn't quite understand the connection. Being a marketing person, I questioned their motive for sending the items out at all…was it all they could afford? Were they told, "get something out" so they gave it no thought at all? That's the biggest mistake of all. Not only wasting valuable marketing dollars but potentially hurting your corporate brand image.
Are Your Promotional Items Useful?
When you are developing your promotional products plan there are several key areas to think about before you start buying. First determine your budget – a total amount for your promotional marketing program is great, just understand how much you need to reasonably spend to achieve your goals (you do have goals right?). Remember, you are investing this money in your business to get people to remember your name/brand and buy from you, at a minimum.
Second, you need to understand the audience you are trying to reach and what may motivate them. For instance, if you are a flower wholesaler trying to reach retail flower buyers you don't want to be giving away pill cutters. You may want to think about giving them a coffee tumbler that they use every day – seeing your name regularly.
Personally, I strive to give something useful. I look at every item and think – would I use this?
Would I keep this? If the answer is no, I move on to something else. Now, not everything has to be a serious useful item. I have a stress reliever on my desk (we all should don't you think – many do, that's why they are so popular). It's a small character guy with a big toothy grin that is wearing a sidewalk sign that says "Our Service Rocks" and when you squeeze him he talks. Makes me smile every time.
Third, you really want to know why you are giving out promotional marketing items. Are you using it as a thank you and leave behind gift after a meeting; as a door-opener to get a meeting; as a brand reminder at a trade show; are you participating in a community event or celebrating a company milestone? The list can go on and on. If you have a good idea of why you are giving an item then it can help you narrow down the what. Because you want the promotional items your give to make sense and be memorable.
Finally, think about the quality of the item you are giving out. We've discussed this before and I cannot stress it enough. Quality does matter. Remember this item is representing you and your business. Do you want it to not work the first time or break after a short time? Is that how you want your brand to be remembered? I doubt it.
Don't Blend In, Stand Out!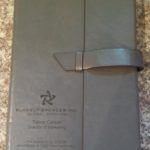 And, with all the new decorating techniques that have been added in recent years you can stand out even more with a personalized message.  In addition to your logo on an item you can personalize the item with their name, custom boxes with logo and message, have a printed band around the item with a special message or for journals and books you can include custom printed material as part your marketing program.
As you can imagine, there are so many options to personalize your promotional items. For example, we regularly produce journals for sales organizations that have each of their sales persons names laser engraved on them as well as for those celebrating years of service anniversaries. We've also produced personalized luggage tags for incentive trips along with passport holders and padfolios to name a few.  So many ways you can make your promotional marketing items more memorable. Don't blend in, Stand Out!!