*This post may contain affiliate links. As an Amazon Associate we earn from qualifying purchases.
Check out our top 3 promotional product categories to help you do just that!
When promoting your business, we all want the same thing, to stand out! This past holiday season my office gave out these really great S'mores kits to our clients. Not only were they fun, but they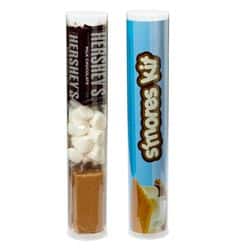 were big. They stood 18" tall and we had a label on them that had Santa in a bathing suit (we are in Florida) roasting his s'mores over a beach fire. We were told by many that our gift was voted "the best" of all they had received this season. Just what we were going for!  We not only stood out but we were "The Best".
That's literally what we all should be striving to achieve no matter what we do to promote our businesses. We want our prospects and our clients to remember us every day. One of the key was to be remembered regularly is to be in front of your clients and prospects every day. Not with a visit obviously that could definitely become annoying.  However, the right promotional product can definitely do the trick for you.
Your Brand Should be Visible Every Day
When you visit for a sales call or meeting it's great to be able to leave something that is useful and will be kept. There are many ways to stand out in 2016 so that you make a true impact on your clients and prospects. Obviously they don't always have to be expensive (and can be given at trade shows too) but some of the more truly stand out items can be on the more expensive side.
So if you want to stand out with your business this year, explore our top 3 hot product categories for 2016
Brand name products are more and more available to have your logo imprinted (you may not realize but brand names merchandise may have to be changed slightly to accommodate a company logo – for instance Nike moves the swish symbol to another location than the left chest). Some of the brands that are available include: Brookstone, Igloo, bobble, Moleskine, Travis & Wells, Zebra, Aladdin, Balmain, Cross, cool gear, High Sierra, Guess, Kenneth Cole Reaction, Wenger, Slazenger, Sheaffer and so many more. When choosing to stand out by giving a brand name product make sure that the company image reflects your own.
Tech products are still huge as long as you make sure what you are giving is a quality product. You don't want to be handing out a power bank that doesn't hold it's power!! Yes, power banks have been around for a couple of years but now they are getting stronger (there is one super one that is 20,000 mAh – able to charge multiple items quickly). Power banks are also getting slimmer and smaller even with big power. Great way to be remembered when someone is seeing your logo every day as they charge their tech devices on the go!
Tech Items Are Used Daily and Reinforces Your Brand
Another tech area that is big is sound. Bluetooth speakers have also been around for a couple of years but with so many of us carrying multiple devices that can play music as well as be used as a telephone the Bluetooth speaker is keeping up by having bigger sound and a larger range. Most every Bluetooth speaker can also be used as a handsfree phone (think an impromptu meeting and this is your speaker phone!). Again, you get continued exposure because the speaker is used frequently. Think about your clients and prospects that like to listen to music while they work (I do every day – keeps me upbeat and productive) using your logo'd speaker!
Selfie Sticks have also become a phenomenon that at first was a little tough to take advantage of. Many of the earlier sticks if they could have a logo it was very small and they would only work on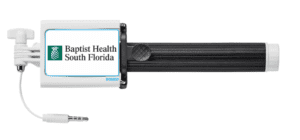 iphones. Now they've caught up and there are many options that really showcase your brand as well as work with both the iphone brand and droid. We had a local hospital network recently use this as their gift to all their nurses for nurses week.
And let's not forget drones! Yes, there are remote control flying drones now available that can be imprinted with your company logo. This is a relative newcomer in the promotional products arena but I am sure it will continue to grow. I can definitely see these given at an upcoming sales meeting for those sales people that have soared past their goals to new heights!
Tech accessories is also catching up so they can be imprinted with your company logo. There are now phone cases to fit every phone. And of course, now that we have a phone, tablet and a computer and more to carry with us wherever we go, we need a way to carry them! There are great backpacks, messenger bags, tote and more that work for just going to a meeting or making a long distance trip.
After the holidays it seems that we all become a little more health conscious as those holiday pounds seemed to have creeped on to our thighs (well, mine anyway). And yes, Fitbit has been around quite a while but now there are lots of options in addition to the Fitbit that can be branded with your company logo. Most of the Bluetooth health trackers syncs and tracks your activity (calories burned, activity, steps taken, even your sleep quality) with varying degrees of available features (alarms, heart monitors and more).
And we can't talk about wellness without thinking food! And infuser bottles continue to be very popular. More styles and sizes are available as well as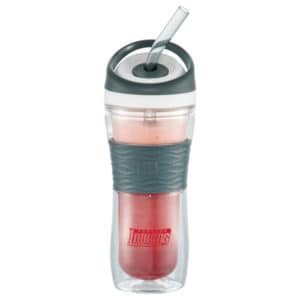 tumblers designed specifically for taking smoothies and shakes wherever you go. Many even have a bottom agitator to help prevent settling. Now we have no excuse!
Don't Forget that Color Can Help Your Brand Stand Out
Another big trend is the use of color. Today many of your promotional product options include bright colors – neon greens, oranges and pinks. Gone are the days when most items were only available in black or brown. Now you have a rainbow of colors to choose from to help you stand out.
Remember, branding is all encompassing. Make sure what you are giving out to clients and prospects is meaningful, quality and useful!