*This post may contain affiliate links. As an Amazon Associate we earn from qualifying purchases.
Trade shows are a great way to connect in-person with highly targeted customers. Exhibit Surveys, Inc. has develop five steps to a successful trade show event, which they use to statistically determine exhibit attraction. These indicators are used to measure the percentage of the exhibitor's audience who remember visiting a company's exhibit. Carefully evaluate and implement these five steps to create more sales leads and customers than you imagined.
1. Pre and Post Show Promotion
As the show approaches create excitement around your booth by providing attendees with a hook to pull them in. Your hook should be both unforgettable and highly prized by your target consumer to be memorable as attendees approach your trade show displays.
Pre-show, direct mail or email blasts, and all the channels available to you on social media, should be considered. Most trade shows will have a list of attendees that they may provide as part of the package deal, or they will sell or rent you the list. Make the most of this opportunity. Tease registered attendees with info about a new product or service launch. Offer a special gift to attendees who mention your pre-show announcement. Run a contest on social media awarding visitors with a special promotional item or product sample. Encourage social media 'likes' to create a bigger buzz. If you have VIP customers attending offer them an invitation to a special dinner or a high-value promotional item exclusively for them, to  pick-up at your booth. Differentiate your company prior to the show to attract the best customer leads for your brand.
The reason to participate in trade shows is to generate leads. When the words 'agenda trade show' come to mind the end game should be the first order of priority. Post show marketing begins in the planning stage. Follow-up communications, delivering product samples, and thank you notes are some items that need to be pre-planned so you can strike while the trade fair excitement is fresh in your prospects mind. You only have one week before your efforts are forgotten. Proper planning of post-show marketing will improve your overall success.
2. Exhibit Design and Display
Somewhere between a simple company logo backdrop and an overwhelming visual display is your sweet spot when it comes to visually stimulating passerby attendees and drawing them in.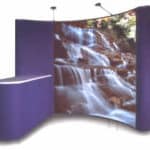 Research the hidden needs that draw people to your product and come up with a design that will differentiate you from your competition. The counter-culture Champs Trade Show is an exaggerated example of brand differentiation in a psychedelic setting. Here vendors have to compete with colorful displays to create interest to attract attendees beyond anything that exists in world of trade fairs. Think billboard design; one simple graphic, few words, and brightness in the form of your use of color or lighting. If you can afford it, consider using technology to present your message and draw people in.
3. Demonstrations and Attention Getting Techniques
People love games and it's a great way to draw them in, provide knowledge about your product and make your presence memorable. Prize wheels, rewarding Twitter comments about your product to a specific hashtag, and game shows are some fun engaging activities for attendees to earn a promotional product, that you are going to give them anyway. Adding the element of competition and excitement makes your trade show display stand out above your competitors.
Product demonstrations and sampling are also great attention grabbers. If your product is new or different from your competitors, demonstrating this feature is appealing.
4. Interest in the Products and Services Exhibited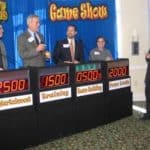 Choosing the right trade shows to participate in is key to your overall success. Consider the shows that are appropriate for your industry and evaluate them according to their importance to your sector. Review the information about the show's audience to make sure that they are a good source of sales leads. When in doubt, look to see if your competitors are participating, and how many years they returned to the various shows. The more targeted the show is to your customer profile, the better success you will have in generating leads that result in sales.
5. Exhibit Size
Large booths get the most traffic due to their location and their overwhelming presence. The rule of thumb is to have a booth equal to, or larger than, your competitors. Budget constraints and transportation fees are often a factor. When you can't get the largest booth in you category, use the above elements to make for a successful presence. Wow them with your use of promotional marketing to motive prospects to action pre show, during the event and post show to maximize your efforts and return-on-investment.