*This post may contain affiliate links. As an Amazon Associate we earn from qualifying purchases.
I attended a panel discussion recently that focused on marketing in a digital world. There was a wide variety of expertise and I found it very interesting to hear all the different perspectives. One they all agreed upon was that traditional marketing elements are not dead. And the business card was still a very viable marketing tool, especially cool business cards.
One of the speakers had one of the most unusual business cards I have seen in a while. Her card had a cut-out silhouette of a person (her) standing on top of the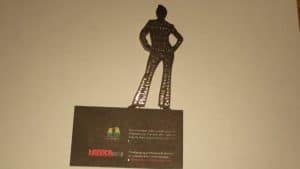 card. On the back it read: "What were you expecting? A soulless, ordinary, practically invisible 2" x 3.5" business card? Consider this an invitation to shake it up."
This is a cool business card. Now, granted on some levels it's impractical because it doesn't fit into my business card holder, but on the other hand it certainly got my attention and I remember her well.
Business Cards Can Do More than Just Inform
The business card still serves a necessary purpose because it provides the information about you and your company so a potential customer can get in touch with you after meeting (or better yet, you have their card and you follow up with them!).
And as the silhouette card mentioned, most business cards are basically invisible. Today, we all need to stand out with cool business card designs. We are in a more visual world and although much communication is done digitally the business card is still a relevant communication tool that can indeed help you to stand out and make an impression.
The business card is your first impression and can contain more than just your name, address, phone, web address, twitter address and such. It can do as she did and not only made me look at the card, but it also gave a bit of a sales pitch: "If you're a forward-thinking entrepreneur  who wants to reinvent the way you communicate in your business – especially through video – let's talk. Together, we'll devise an innovative and strategic way to tell your story to the people who matter most."
Not bad at all. This cool business card not only gives me the basics, it told me what her company does and it also told me what it can do for me.
Business Cards are Your First Impression
On the other end of the spectrum, I have to admit that when I receive a very flimsy business card with just the minimum of information I'm not too impressed with the company. Many times I will just throw the card away because I figure they aren't ready to take on my business. Remember, first impressions do matter.
Now, after receiving this card, I feel I may need to take mine up a notch. My cards are thicker than normal, have rounded corners (I think it's why I win a lot of raffles – my card stands out when they are fishing around in the raffle bowl for a winner), are colorful (my logo on the front and my various designation logos on the back) and it includes a brief statement, "if it can be done, we'll make it happen."
But, I do believe it's time to take it up a notch, so I'm exploring some new cool business card designs and these are some different options:
Die-cut your card (doesn't have to be as large as the person silhouette) to your logo shape or the type of business you do
Make it dimensional, imagine a miniature plunger for a plumbing company or a stress reliever for a spa or massage therapist – doubles as a gift
Seed cards (the paper is embedded with seeds and you plant the paper) are popular for a wide variety of business – think lawn services, landscapers and more. The only problem I see is if they truly use the card and haven't transferred your information to their computer then they can't contact you!
Plastic cards are more popular lately – there are clear or opaque options and many times they double as a sales promotional tool and can be used as a discount

A Cool Business Card Can Make a Sales Point

card for a future purchase

A tearable business card can be great for personal trainers or other business where you might be cutting something off (hair, grass, weight, or changing – divorce lawyer for instance)
Mini brochure business cards (it can be similar to a book or it can have multiple folds) and should include more about what you do
Cool Business Cards Make a Statement
Now, maybe you've decided you can't really afford a truly custom business card but you could still make a cool business card by becoming more creative with the standard card. You could go larger, not huge, but slightly larger will stand out. You can add raised or debossed type, dramatic color or different printing techniques like foils, iridescent colors or other treatments.
For instance, there were 4 other speakers on the panel discussion, I've got all their cards, but the only person I truly remember exactly who she is, is the one with the silhouette on the card.
Seriously, how many times have you been to a networking event and come back with 10 or more business cards and have trouble remembering any of the people you met? I have. Unless I make notes on the back of the card (has dogs, getting ready to expand, loves fishing) to remind me of the individual because all the cards basically look the same, I don't remember them.
Another aspect of the card to consider is the shape. We've talked about die-cut a bit, but you can have irregular edges, rounded corners, a hole somewhere on the card (if it makes sense of course) or even make it smaller than standard (I've received a number of small square cards lately). Just about anything that will look different from the boring standardized business card.
Now, I guess some people like them, but I've also seen cards that you cut up or tear apart to make something – a tractor, a chair, or other shape that pertains to their business. Personally, I'm not going to take the time to do that. But then, maybe I'm not their target.
Just remember when you are ready to reorder your business cards that you need to give it more thought so that they make a statement about you and your business.  Get Creative!!