*This post may contain affiliate links. As an Amazon Associate we earn from qualifying purchases.
Get Appropriate Gifts That ARE Appreciated
Recognizing your executives is important year round and during the holidays it can be particularly important. Why? Because just like everyone else they like to be recognized for a job well done and appreciated for the hard work they do year round.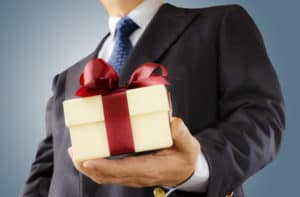 Since its November, I have received a number of inquiries for executive gift ideas. Today a client called looking for high-end leather portfolios. Her request was actually quite easy because she knew what she wanted. She knew her budget (up to $250 each), color (burgundy), and material -supple leather and zippered. Plus she wanted to make sure they were personalized executive gifts so we had to make sure to recommend a portfolio that could also include their initials on each in addition to their company logo.
When you are thinking gifts for executives you need to typically think more high-end. If someone is making six figures you do not want to be giving them engraved pens. Unless, of course they are really nice engraved pens.  We've produced some beautiful Cross pens that cost more than $100 with a unique logo emblem on the clip, now that makes for a more unique executive gift.
The Gift Says a Lot – Don't Miss the Mark!
There are a number of factors to consider when deciding on what you want to give for executive gifts.
First is gender. Do you want to give a more unisex oriented gift or are you going to choose gifts that are different depending on the gender. Last year a travel company client wanted to give their top executives something to use when they travel for business (which is frequently). For the ladies we recommended a beautiful leather travel jewelry case and for the men a leather tie case (they were required to wear ties to their meetings). They were very well received. We've also produced custom designed silk scarves and ties, another nice alternative for gender specific executive gifts.
Second is function. Do you want this executive gift to be something they use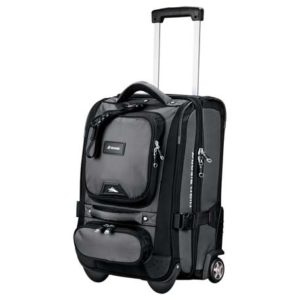 for business or pleasure? As the travel gifts above show, it could be both. I am sure the ladies didn't just use their travel jewelry cases for their business travel! Staying with travel, we also provided rolling duffel bags recently for an executive gift. Not only do they use it for all their business travel, but they are happy to showcase their logo (it's a University – and they are proud to be there).
Another great option that can be considered dual function is apparel. This one takes a bit more planning as you have to make sure of everyone's size, but it can be very well received. Jackets are a great gift if you are in an area that you need one. One of our vendor partners said he received a gorgeous down jacket as his executive gift last year. Unfortunately for him, he lives in Florida (the company was based in Seattle and sent the jackets to their executives around the country and unfortunately didn't take into consideration that it wasn't practical for all areas). He's still holding on it in hopes he will head north this year for a trip but it didn't achieve the goal of appreciation the company was reaching for. Something to keep in mind as you explore your own unique executive gifts.
Are we Drinking? Depends
Third is appropriateness. One of the executive gift ideas that I get asked about quite frequently has to do with alcohol. Is it or isn't it appropriate. In many instances it depends on company policy. I have a client that the CEO is a non-drinker and so I would never recommend any gift that included an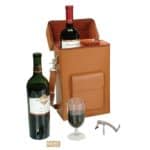 alcohol based gift (not even a wine stopper!). However, we have produced some beautiful leather 2-bottle wine carriers for clients (they still didn't want to include wine so we provided special olive oil instead). Of course, many companies embrace the idea of giving the gift of wine or champagne. Each year we produce different custom labeled or engraved wine or champagne bottles as gifts not only for company executives but many times they are also given to clients and prospects. And of course, sometimes we include wine accessories such as wine stoppers, openers, carriers or decanters. Really, who doesn't love a new wine stopper or opener when they receive a bottle of wine?
The fourth consideration is delivery. To me the most important part of delivery is the presentation. Everyone likes to open a present and since this is supposed to be a gift make it look like one. Take the time (and expense) to have it wrapped as a gift should be. Don't just go by everyone's desk and drop off that new portfolio so it's sitting there when they come in on Monday morning. Would that make you feel appreciated and special? I wouldn't. The second part of delivery is the actual delivery method. Are you hand delivering to the executive? If you have a card on the gift, make sure it's personalized and hand signed. If you are just handing them out at the annual holiday event, that's fine too, but make sure you personally greet each executive and express your sincere gratitude. If you have to ship your gifts, then again, have them wrapped and include a personalized card. And if you are shipping the gifts out make sure they are received the same day you would be handing them out in the corporate office. I know it may seem like common sense but you'd be surprised how many companies forget this step.
The fifth consideration for the executive gift is quality. I would have thought that with a high-end budget that would be a no-brainer but expensive doesn't always equate to quality. When you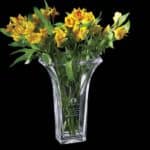 are reviewing the options don't skimp here. You want your executives to feel appreciated and since they may already own almost everything then you need to make sure the gift is made of quality materials. I'm afraid to say that I've received gifts over the years that within a week or two either stopped working or seems to fall apart. Make sure it's crystal and not glass or that it's full grain leather and not bonded. While there is nothing wrong with glass or bonded leather if you are going for the high quality high-end executive gift then go all the way.
Is it a Gift with a Logo? Possibly
The final consideration – to logo or not to logo your executive gift. To be perfectly honest, I am good both ways. The client that is giving the beautiful leather personalized portfolios to their executives, if I received one I would expect them to be branded. The silk scarves we've done in the past, the design was beautiful and the logo was subtle so in my opinion it was appropriate. However, if you are giving very personal gifts to your executives – where everyone is basically getting something different then it becomes not only more difficult it may be impractical. While many name brands can now be logo'd it's not always necessary and may detract from the personal intention of the gift.
So for this gift giving season I hope these tips help. Happy Shopping!