*This post may contain affiliate links. As an Amazon Associate we earn from qualifying purchases.
I've been in the promotional marketing business for over 20 years. I have produced 1000's of promotional items. Some of course are the standards that we all use every day; promotional pens, coffee mugs and the like. However, I have to say, I have produced some amazing promo items in my time.
Now, amazing is in the eye of the beholder. Some would say that the promotional items are only amazing if they garner the response you are looking for. And to that I would totally agree. I've worked with some advertising agencies that love to tout their award winning creative – and it is for the creative, not necessarily it's effectiveness. And that is the key. When producing a truly amazing promotional item to me it's not only creative but it is also effective in achieving your overall goals of awareness or increasing sales or increasing traffic and more.
Amazing Promo Items Have Staying Power
When developing your promotional program that's your ultimate goal – achieve the success you are looking for in regards to the program. It's not just handing something out. It's getting more traffic at your trade show booth or having someone remember you and call you with an order, improving your overall brand awareness. Making your promotional item useful and memorable are key.
If you have the time and you want something truly unique then I would recommend a custom item.  Now, custom doesn't have to be truly custom. For instance, right now we have a "custom" backpack tote bag in production for one of the cruise lines. We took the overall look of the standard offered piece, changed the colors to our clients colors, added a pocket and a Velcro closure and voila a "custom" bag. They loved it and by using the cut-die of the existing bag we were able to save our client money. Win, win.
We have produced custom designed resin frames – so if you have a destination or event theme or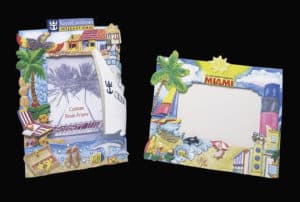 commemorative event coming up it's a great idea to have a beautiful frame that can be given to all those visiting or in attendance. We have done many of these over the years and being in Miami, Florida I admit, it makes it easier. We had a large convention in town and we designed a frame that showed much of what the destination offers from cosmopolitan city to the beaches. They took pictures of the attendees as they arrived and the second night they were able to pick them up in the frame as their gift! The response was tremendous.
Amazing Promo Items Deliver Results
It also a great idea to create custom awards for your staff, sales stars or events. There are many processes available today that can make an award more custom and stand out to make the recipient feel even more appreciated. And, many can be produced at minimum quantities. We did a custom die shaped award for one client of their key logo element. It was coveted item to receive each year by their top employees.
Of course you can now produce custom of just about everything. Custom pens (some can just be customized with great sayings within the barrel), custom key chains, custom journals, custom stress relievers (these have been very popular for us), and custom shaped USB's – with technology today, these are very popular. Think about your logo symbol or top product as a shaped USB – talk about staying power and impact! And if you don't have a power bank to charge your smartphone or tablet you should have one and maybe the one you get will be custom shaped!
As you can see, I could go on and on about amazing promo items as the possibilities are as endless as your (or my) imagination.