*This post may contain affiliate links. As an Amazon Associate we earn from qualifying purchases.
More than a simple cash register transaction, there are at least 9 ways Point Of Sale Systems can boost sales and retain customers.
By way of definition, a Point of Sale system replaces the cash register at retail check-out. Typically there is a computer and a monitor, or a Tablet; a printer to print receipts, although some small business opt to forgo this feature and email receipts; a barcode scanner; and a credit card reader.
Point of sale systems may be set up using an in house server or on a system that is sent through the cloud. Expanding from simply processing purchases using a cash register to a POS system gives you access to a great amount of data.  
Here are some great ways to use your merchant point of sale strategy to grow your business and expand your customer base.
1. Increased Sales Volume through Inventory Control
Today, even basic POS systems come with options for inventory control management that helps with seasonal and holiday sales forecasting.
Inventory management identifies products that are in high and low demand. Using real time data, business owners can increase prices based on high demand, fast moving and low inventory, or develop sales offers based on high in-stock items.
Another sales tactic that can developed based on high-demand sales items identified through inventory management is a loss-leader strategy. Loss leader pricing is a technique used to attract customers.This strategy depends on driving up profits on your other products sold during a  promotional period to cover the losses incurred by the loss leader. Communicating the loss leader product through marketing channels is essential to implementing this strategy.
2. Loyalty Programs Management
Point of Sale systems across the board have built in customer loyalty promotion management software. For example Square has a pay with Square loyalty app for retailers that lets you create a digital rewards program.
Reward top spenders or frequent customers with a discount for every purchase using this inexpensive software. To register customers simply enter their mobile number into the POS screen.
Other systems such as RetaiEdge, Revel Systems and Total Merchant Services have a variety of loyalty program types that allow you to reward purchases based on a number of different options.
Some of the systems have set-up social media apps that communicate with customers on their loyalty progress and rewards.
When developing your Point of Sale  strategy, think through if you want a loyalty program option and how you want to set up reward structures and communication channels as an important part of the services you explore.
3. Identify Customer Demographics to Expand Segments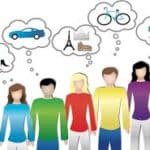 Some retail POS systems include a Customer Relationship Management (CRM) function that will allow sales associates to enter customer data at check-out.  Others POS systems organize customer lists into groups, based on predetermined segmentation strategies. 
4. Advertising Campaign Insights and Campaign Development
Once you begin to develop data about your customers and their preferences, you can begin to establish more insights about the products they look for,  their shopping patterns, and other behaviors.
Having a better knowledge base about your best customers  will help you design better advertising and create targeted sales promotional offers.
5. Coupon Redemption and Processing
Bar code readers allow you to scan printed coupons and mobile devices, to make coupon redemption and tracking easy for both the customer and your salespeople.
By eliminating data entry, you effectively eliminate errors and save time at check-out.
Data collected through the POS system allows you to measure the effectiveness of your point of sale promotion campaign and track customer activity and customer value.
6. Coupon Distribution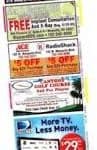 "Coupons printed on receipts enjoy a redemption rate that's three times higher than that of direct mail and newspaper circular-based coupons." according to Bob Carter, president of promotion services for Inmar.  
According to industry experts "if you're not promoting special offers on your register tape, you're missing a powerful opportunity to delight customers and drive repeat traffic"
7. Cause Related Marketing Awareness and Donations
A joint promotion for a cause has been proven to gain significant momentum when a non profit and a business team up to change the world. Your customers feel good that their purchase or donation at the POS made a difference, which increases brand loyalty.
 The customer receipt, delivered at the point of sale or through email, is  a great way to let customers know that their purchase made a difference.
Many POS systems can be programed to enter a customer donation at checkout. Charity checkout campaigns are among the most successful ways non profits raise money. Promoting the giving campaign on your reciepts and during the POS interaction makes for a difference in building loyalty, while making an impact.
8. Direct Marketing Campaign Development
Collecting data about customer purchases, shopping patterns, demographics and payment type are just some of the ways direct marketing campaigns can be developed. As mentioned above, many POS system providers provide a social media function, that allows you to deliver offers to prospects and customers using data accumulated.
Credit card companies, such as AMEX have partnership programs with business to share information about your offers to their customers within your geographical area, or datamine their customer list for prospect mailings and other campaigns.
The opportunities are endless, if you have set up the data collection process correctly.
9. Integrate Brick & Mortar with Online Sales Data
Omnichannel point of sale systems integrate retails sales data from traditional retail stores and online retail sales.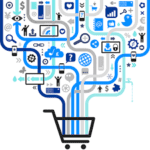 Seamlessly integrating ecommerce software with POS software, has become a major thrust for retailers and POS system suppliers. Major retailers have combined ecommerce software with traditional in-store POS systems to become brick and click stores.
Shopify, Vend and Bindo are POS systems that provide a product to specifically integrate omnichannel sales for small businesses and big retailers. With the growth of online shopping and purchases, all the POS system providers are integrating this feature into their products.
The customer experience is key. Customers want the convenience of shopping online and picking up at the local store. While this has been standard for big retailers, it is important for business big and small to offer services and integrate sales, inventory and customer data to develop better customer relationships and offers to build their business.