*This post may contain affiliate links. As an Amazon Associate we earn from qualifying purchases.
Gifts That are Awesome AND Practical
I think you could say I'm in the gift giving business and I have to admit I really believe the best use of your marketing dollars is to give practical gifts or none at all.
Before I was in the promotional marketing business I was the marketing director of a major company and I received more than my fair share of gifts. And I can't begin to tell you how many times I received something that made absolutely no sense to me. Yes, I understand that they were trying to make an impression on me so that maybe I would meet with them or buy their products or services but did they not do any research at all? Were they just sending out these items to everybody in a certain zip code?
Why? Because Practical Gifts are Used, That's Why!
Giving practical gifts has a multitude of benefits. First, they will be used and not thrown in the trash. To be perfectly honest, my first brochure for my promotional marketing business had a beautiful business desk on the cover with a trash can beside it that was overflowing with promotional gifts that were useless. That's why I thought I could make a difference because so many I had received were just that.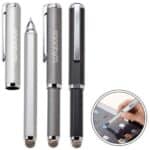 So, what are so gifts that are practical? A utility item, something that the recipient will use. Pens are an easy example. If of course it's a pen of quality. I happened to have this same discussion today with a client. Yes, there are pens that are out there that you can get for $.25 but not every $.25 pen is the same and most do not work for long. But, if you spend say $.05 more and get a $.30 pen you've got one that may last a year. That's practical giving!
Gifts that are practical can be your brand ambassador. Once again, you want to give a quality gift that might extend your brand message. Does it make sense? If you are an automotive repair shop does it really make sense to give out a nail file? Maybe you want to reach more women, but it doesn't really make sense to me. It may be a practical gift in that it might be used but will I look at it and think – I need to take my car in for an oil change? Maybe something more generic like a microfiber cloth that cleans my smartphone and has more space for a message (or a discount offer) might be more practical.
5 Practical Gift Ideas to consider for your next promotion:
Power Banks; I've talked about them before but with today's constant need for powering all our tech devices more than one is needed by many
USB's; they are still very practical even if you store your data in the cloud having a device that you can plug in anywhere to get your Powerpoint presentation going is helpful
Adhesive Notes; yes, they are still very practical. I don't know

Adhesive Notes in shapes also can reinforce your brand message

about you but I use them every day. Why not have your message printed on each sheet to remind the users who you are and what you do?

Travel Mugs; we all spend time in the car every day and I always have water with me (I don't drink coffee), but I still like a nice mug to keep it fresh
Notebooks and Journals; no matter how tech savvy we are, keeping notes on paper is still very practical and today many people like to journal daily… why not remind them of your brand each time they write?
I think that gives you a good idea of what we mean by giving gifts that are practical and how they can extend the life your marketing dollars for years to come as your gift is used over and over again.